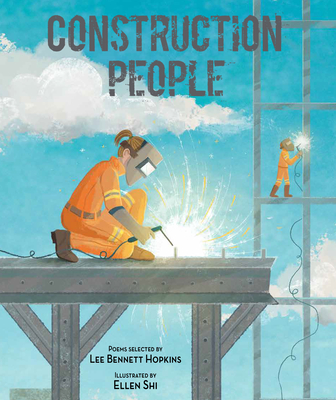 Construction People
Hardcover

* Individual store prices may vary.
Description
Kirkus Reviews Best Book
NCTE Notable Poetry Book
Bank Street College of Education Best Book of the Year

Fourteen poems compiled by award-winning poet and anthologist Lee Bennett Hopkins introduce readers to the various construction people who collaborate to create a high-rise hotel building, from architect to crane operator to glaziers and more.

How does an empty lot transform into a new hotel? This anthology begins with a busy construction site, and an architect's (and her daughter's) dreams drawn on blueprint paper. Next, workers with huge machines--backhoes, dump trucks, cement mixers, etc.--roll in. Poems full of noise and action describe every step of the construction process. From welders and carpenters building the skeleton of the building to plumbers and electricians making its insides work, this book celebrates people and equipment working together to build something magnificent.
Praise For Construction People…
"(This) brilliant anthology (is) an example that shows poetry can be about anything and for everyone." —The Boston Globe

★ "Fourteen poems capture a skyscraper's construction, from beginning to completion, in vivid detail. Apart from enjoying jaunty rhymes that scan well and include numerous delightful turns of phrase, readers gain insight into the many workers who collaborate on a new building's successful, safe skyward climb. Lively, appealing artwork grounds this collection... (a) lovely foundation for forays into poetry and for building a love of buildings." —Kirkus Reviews, starred review 

"Hopkins, a prolific anthologist who died last year, pulls together the story of a construction site through simple poems about its workers: the backhoe operator, the dump truck drivers, the glaziers and electricians. The real pleasure belongs to the sturdy utilitarian magic of engineering as captured by Shi's illustrations and Hopkins's step-by-step selection." —The New York Times Book Review

"Hopkins compiles fourteen poems that collectively pay tribute to the workers, from architects to glaziers and welders and plumbers, who raise up the high rises on our skylines. (M)ost contributions... offer rewarding aesthetics while varying in poetic style. Shi's digital illustrations, textured and painterly, offer details of each featured job from ground up. With the flexibility for reading silently or aloud, solo or with a group, this collection will have broad audience appeal." —Bulletin of the Center for Children's Books

"This anthology from the late Hopkins collects 14 verses from a range of poets that celebrate and educate on the many roles, tools, and processes vital to the construction of a building—in this case, a skyscraper.  It's a wonderfully comprehensive bunch, with Shi's illustrations capturing each step of the collaboration. Each spread bears a single poem, often making use of rhythm, rhyme, and onomatopoeia—though the verses eschew silliness in favor of wonder, respect, and information. This poetry collection works as a literacy tool for early elementary groups, a natural launchpad for writing prompts, or a more involved introduction to the world of construction." —Booklist

"This compilation of 14 poems, assembled by the late Hopkins, is an ode to the diverse types of people that are needed to erect a building. Fittingly, the poems feature many different poets' voices. Readers...move through the stages of construction, from the architect's musings to the backhoe operator that digs the foundation, to the glaziers that add the windows. Shi's design and artwork employ a muted color scheme (browns and blues) to capture the dirt and sky. Pops of color (a red bucket, a welder's orange uniform) encourage the eye to dance across the page as the skyscraper grows. The depictions of the workers include a variety of genders and races, which makes the book feel warm and inclusive. Recommended." — School Library Journal
Wordsong, 9781684373611, 32pp.
Publication Date: March 17, 2020
About the Author
Lee Bennett Hopkins was a poet and anthologist who Guinness World Records recognized as "the world's most prolific anthologist of poetry for children." In addition, he has been honored with the Christopher Award, the Regina Medal, the NCTE Award for Excellence in Poetry for Children, and the University of Southern Mississippi's Medallion for "lasting contributions to children's literature."

Ellen Shi is a graduate of the Rhode Island School of Design. She is the illustrator of Lee Bennett Hopkins's School People and Jane Yolen's Little Frog and the Scary Autumn Thing, among other titles. Visit ellenshi.com