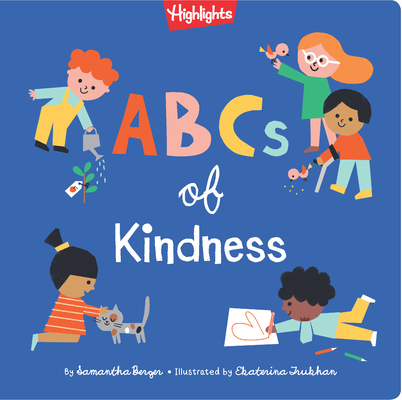 ABCs of Kindness (Highlights Books of Kindness)
Hardcover

* Individual store prices may vary.
Description
From A to Z, this hardcover storybook shows young children how they can make the world a kinder place. Through vibrant illustrations and age-appropriate language, this 26-page book will encourage kids 2-5 to be their best selves wherever they go.

Showcasing a diverse cast of children, the ABCs of Kindness book demonstrates everyday acts of kindness, inclusion and generosity—whether it be donating blankets to the animal shelter, helping with chores or standing up for what's right. It's the perfect book to spark conversations at home or in the classroom about the concepts of empathy and compassion.

Featuring durable cardstock pages and approachable, kid-friendly language, this book offers a thoughtful and fun read-aloud experience that young children will love. This book is crafted by childhood experts to promote strong social and emotional skills and build positive associations with reading.
Praise For ABCs of Kindness (Highlights Books of Kindness)…
"This book provides a different act of kindness for each letter of the alphabet. The text is presented in a logical sequence that will be easy for readers to follow. Throughout the book, children can be seen engaged in acts of play, friendship, and unity. . . The illustrations add to the text by providing delightful examples of each narrated act of kindness. The size of the book and easy-to-turn pages make it perfect for younger audiences. A great option for encouraging children to treat others with consideration and respect." – School Library Journal

"From the beloved brand Highlights comes a new set of picture books for kids. One, in an A-Z format, this book will show kids all the different ways they can bring a little kindness into the world. Think helping with chores, delivering cookies to a neighbor, standing up for what's right and more. The other does the same in counting form and featuring a diverse cast of kids and beautiful illustrations, these are both excellent books to read aloud in a classroom or at home before bedtime." – Red Tricycle

"Kindness is something everyone can relate to. . . Using 123's and ABC's, these books make the concept of kindness more manageable for kids and just as fun for adults. They are full of ideas of how any age can share a little love with the world. Take time to read them together and then go out as a family and put what you learned into action!" - Taylor Mariott, Medium
Highlights Press, 9781684376513, 26pp.
Publication Date: February 4, 2020
About the Author
If Samantha could be a superhero, she would be the Kindness Kid. She would make it her mission to spread kindness to every person, animal, and especially to the planet. She tries to pour kindness into the world by creating books, writing for Sesame Street in Communities, and rescuing dogs. Please visit her at samanthaberger.com

Ekaterina Trukhan is a Russian illustrator. She graduated from Camberwell College of Arts and has since illustrated children's books. She draws her inspiration from everyday life, mid-century illustration, and the books she had when she was a child. Visit her on the Web at ekaterinatrukhan.com and goodillustration.com