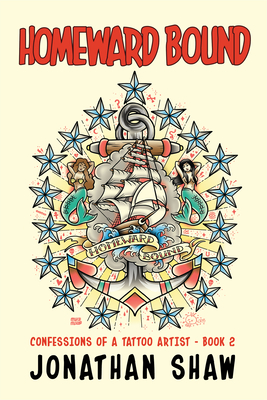 Homeward Bound (Scab Vendor) (Paperback)
Turner, 9781684421367, 400pp.
Publication Date: August 14, 2018
Other Editions of This Title:
Hardcover (8/14/2018)
* Individual store prices may vary.
Description
Picking up where Jonathan Shaw's critically-acclaimed Scab Vendor: Confessions of a Tattoo Artist left off, Homeward Bound resumes the story of Cigano, the tattoo man. Cigano continues his full-body tattoo work on a young acolyte, Jaco, who eagerly soaks up his tales. Homeward Bound continues charting the amazing course of a life measured in extremes and all the singular people, exotic places, and outrageous events that shaped it into a survivor's tale of epic proportions. In its pages, Shaw takes the reader deeper than ever before, not only into the bizarre recesses of his extraordinary mind and incredible adventures, but also into the strange and magical process of memoir writing itself.
Homeward Bound is proof positive that truth is indeed stranger than fiction. As Shaw's old friend and literary mentor Charles Bukowski once told him, most of this book would have to be lived before it could be written. In that sense, Homeward Bound is much more than a compelling, page-turning chronicle of a popular working-class hero's creative evolution. It is a multicolored, cinematic modern-day Odyssey, written in blood, ink and tears - a kaleidoscopic, visionary roadmap to the journey of the human soul.