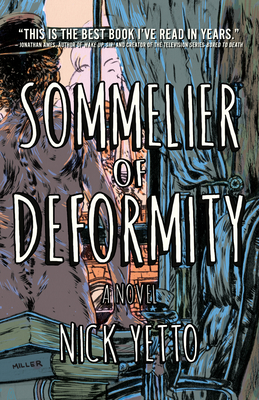 Sommelier of Deformity
Paperback

* Individual store prices may vary.
Other Editions of This Title:
Hardcover (7/24/2018)
Description
"I'm a connoisseur of the unwanted; a sommelier of deformity; a coveter of the unloved. I am forever chased by the shadow of my ugliness. In darkness, no shadow remains, and it's all diamonds."
Buddy Hayes is an ugly, defiant little man, a would-be Don Juan trapped in Quasimodo's body. He lives with his mother and ailing grandfather in a decaying, post-industrial city. The mother is Emily Post with a color changing and a mood-indicating scar. The grandfather is a one-eyed double amputee, who spends his days happily dangling in a hydraulic patient lift. Their life is a working-class hallucination of blueblood extravagance. They luxuriate over gourmet meals and perform dramatic readings. At night, Buddy slips away for covert liaisons with women he meets on the internet. Buddy is at war with his neighbor over a stolen book. There are frequent outrageous acts of casual sex. There's a love interest, a librarian, who tempts Buddy with desires for the "normal" kind of love he knows he cannot have. So it goes, until a new nurse arrives to care for Buddy's grandfather. Enter Terrance: a tall, impossibly handsome black man, a lapsed Broadway performer, virtuoso singer, and banjo player. Buddy and Terrance strike up an unlikely friendship that drives Yetto's surreal, tawdry, and poignant debut novel.
Turner, 9781684421442, 352pp.
Publication Date: July 24, 2018