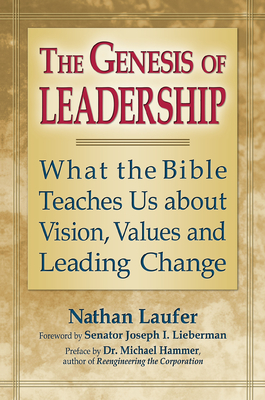 The Genesis of Leadership
What the Bible Teaches Us about Vision, Values and Leading Change
Hardcover

* Individual store prices may vary.
Other Editions of This Title:
Paperback (3/1/2008)
Description
The rich lessons of the Bible can be your leadership guidebook.
Successful leaders don't rely solely on natural charisma and organizational authority as their tickets to success. Successful leadership is a learned art form and a developed discipline. You can master the art of leadership by examining the pitfalls and achievements of past leaders and penetrating the stories of our cultural and religious heritage. The Bible is the ultimate resource for learning by example: its stories of family relationships, political beginnings and even divine encounters provide valuable lessons about leading effectively.
In this empowering guidebook, Nathan Laufer walks you through the stories at the very beginning of the Bible to examine the portraits of leadership success--and failure--they contain. He reveals the life-affirming values that the Bible uses to measure its leaders beginning in the Garden of Eden; analyzes the ups and downs in Abraham's, and later Joseph's, leadership journeys; and scrutinizes the many challenges faced by Moses--and God--in the books of Exodus and Numbers.
Laufer draws out from Bible stories the lessons we can use every day--lessons not only of exemplary leadership, but also of failing to lead, leading with no direction and leading in the wrong direction or to a destructive destination. Through Laufer's interpretive lenses, these ancient stories come alive to inform and inspire our leadership today and offer us direction for the future.
Nathan Laufer helps us see the stories of the Bible] in new ways, he turns them into universal paradigms that relate to situations we all face every day, and he distills his insights into practical and powerful guidelines. There is no algorithm for leadership, no cookbook recipe, but it is hard to imagine a leader at any level of an enterprise whose capabilities will not be enhanced by studying this book.
--from the Preface by Dr. Michael Hammer
Jewish Lights Publishing, 9781684422395, 288pp.
Publication Date: March 1, 2008