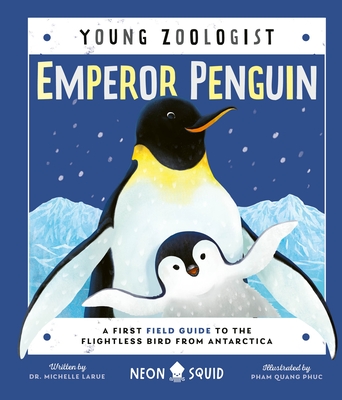 Emperor Penguin (Young Zoologist)
A First Field Guide to the Flightless Bird from Antarctica
Hardcover

* Individual store prices may vary.
Description
"Up close and personal with the world's largest penguin... Informative and winning." -- Kirkus

Take to the Antarctic ice to study emperor penguins in this beautiful nonfiction field guide for kids.

You might know that emperor penguins are the largest penguin species, but there's so much more to learn about this flightless bird. Turn the pages to discover what makes them undertake epic journeys every year, and how scientists have spotted their poop from space! Filled with simple science and plenty of animal facts, this book also explains what makes emperor penguins such great ocean swimmers, and how their cute chicks manage to stay warm in freezing Antarctic conditions. It also looks at the conservation challenges these iconic animals face due to climate change and melting sea ice.

Written by penguin professor Dr. Michelle LaRue and featuring stunning illustrations by Pham Quang Phuc, Emperor Penguin (Young Zoologist) is part of an exciting new series of animal books from Neon Squid aiming to inspire the next generation of biologists and conservationists.

Also available: Humpback Whale, Giant Panda, African Elephant
Neon Squid, 9781684492510, 32pp.
Publication Date: September 6, 2022
About the Author
Dr. Michelle LaRue is a penguin professor and science communicator who teaches Antarctic Marine Science at Te Whare Wananga o Waitaha (University of Canterbury) in New Zealand. As well as penguins, Dr. LaRue studies seals and cougars, as well as the substantial conservation challenges they face.

Pham Quang Phuc is an illustrator from Vietnam. Quang Phuc has won lots of prizes in his career, including the Asian Children's Book Illustrator: Best in Fiction Award.

Neon Squid creates beautiful nonfiction books for inquisitive kids (and kids at heart). We believe the most amazing stories are real ones, so our books are for children who want to decipher ancient scrolls, orbit distant stars, and dive into the deepest oceans. Our books are a labor of love—written by experts, illustrated by the best artists around, and produced using the finest materials, including sustainably sourced paper. We hope that by reading them kids are encouraged to further explore the world around them.