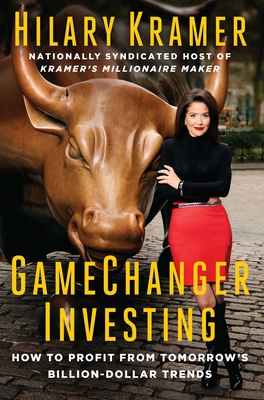 GameChanger Investing
How to Profit from Tomorrow's Billion-Dollar Trends
Hardcover

* Individual store prices may vary.
Other Editions of This Title:
MP3 CD (1/28/2020)
Compact Disc (1/28/2020)
Description
Wall Street seems short on vision these days. Investors are living day to day, planning no further than the next quarterly earnings reports. That's no way to invest. Former investment banker and hedge fund manager Hilary Kramer advocates a different approach: GameChanger Investing. Based on her thirty-plus years managing billions of investment dollars, Kramer—a globally recognized futurist—shows you how to make money and stay ahead of the wave in a constantly changing world.

As long as people keep innovating, dreaming, and executing, great companies will grow and create wealth. But not all growth companies are created equal. From fintech to food-tech, information warfare to the Internet of Things, Kramer identifies the specific technologies, trends, and companies that are both changing the world and poised for significant stock appreciation.

GameChanger Investing is visionary investing, but it's not speculation. Kramer identifies companies with rock-solid fundamentals ready for catalysts that will turn them into major disruptors. Instead of fighting economic disruption or pretending it doesn't exist, she helps you put disruption to work for your portfolio.

Embrace the future and invest in tomorrow's GameChanging billion-dollar trends. The secrets are in the pages of this book.
Praise For GameChanger Investing: How to Profit from Tomorrow's Billion-Dollar Trends…
"With an eye for telling clues worthy of a Sherlock Holmes, Hilary Kramer provides a timely guide to fathoming future trends!"
— —Steve Forbes, chairman and editor-in-chief of Forbes Media

"I'd highly recommend GameChanger Investing to anyone seeking out worthwhile investment opportunities or simply looking to gain a better understanding about the significant transformations taking place in today's world. Kramer's advice: Forget the status quo; find the disruptors and catalysts. She shows readers how to find spot opportunities beyond the well-recognized companies and personalities making up today's news. GameChanger Investing is accessible and easy to read, jam packed with information and engaging stories."
— —Christine Kiernan, senior producer, Thomson Reuters Television

"As a new decade approaches, Hilary Kramer shows investors how to spot and profit from the mega-trends for 2020 and beyond. Each chapter illuminates how tomorrow's future trends need to be understood and applied to investing today. GameChanger Investing is full of advice for everyone from the novice investor to the market pros."
— —Susie Gharib, anchor and senior special correspondent, Fortune

"Hilary Kramer has championed the underdog investor for her entire, long career as an investment guru and author. So her new book is must reading for anyone looking for an edge to make money in the market. Kramer's book is a must-read because she reveals not just where science, technology, and industry are heading, but how the everyday investor can use this knowledge to create wealth. Always entertaining and smart, Kramer can be counted on to cut through the mysteries of investing. The pros aren't going to like you knowing what Hilary is going to tell you."
— —John Crudele, syndicated columnist and business journalist, the New York Post

"Who wants to be a millionaire? Step one: Read Hillary Kramer's blockbuster GameChanger Investing. There is no more reliable and trusted voice for financial common sense in America than Hilary and this book lays out the formula in simple, plain English."
— —Stephen Moore, senior economic advisor to Donald Trump and former Wall Street Journal economics writer
Regnery Capital, 9781684510054, 208pp.
Publication Date: January 7, 2020
About the Author
HILARY KRAMER, who the Financial Times calls a "one-woman financial investment powerhouse," provides stock analysis and investment advice in her GameChangers newsletter from Eagle Financial Publications and Millionaire Maker, her nationally syndicated Salem Radio show. She is a frequent guest commentator on CNBC, CBS, FOX News, and Bloomberg.