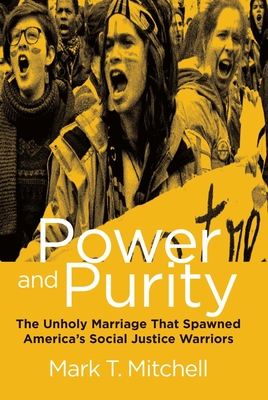 Power and Purity (Hardcover)
The Unholy Marriage That Spawned America's Social Justice Warriors
Gateway Editions, 9781684510115, 256pp.
Publication Date: February 11, 2020
* Individual store prices may vary.
Description
A Marriage Made in Hell

Where did they come from, these furiously self-righteous "social justice warriors"?

The growing radicalism and intolerance on the American left is the result of the strange union of Nietzsche's "will to power" and a secularized Puritan moralism. In this penetrating study, Mark T. Mitchell explains how this marriage made in hell gave birth to a powerful and destructive political and social movement.

Having declared that "God is dead," Friedrich Nietzsche identified the "will to power" as the fundamental force of human life. There is no good or evil in a Nietzschean world—only the interests of the strong. Reason and the common good have no place there.

The Puritan, by contrast, is morally rigorous, zealous to promote virtue and punish vice. America's Puritan tradition, now thoroughly de-Christianized, has been reduced to a self-righteous moral absolutism that focuses on the faults of others, intent on avenging the sins of society, institutions, and the past in pursuit of the secularized ideals of equality, diversity, and social justice.

As Nietzsche's ideas have permeated our culture, a new generation of radicals has embraced the rhetoric and tactics of the will to power. But the strength of America's residual Puritanism keeps them only half-baked Nietzscheans. More Christian than they care to admit, they cling to a moralism that Nietzsche would despise.

The incoherence of their mixed creed dooms social justice warriors to perpetual frustration. Their identity politics generates ever more radical demands that can never be satisfied, further fracturing a society in desperate need of a unifying myth. We seem to be left with only two options, Mitchell concludes—Nietzsche or Christ, the will to power or the will to truth. The choice is bracingly simple.
About the Author
MARK T. MITCHELL is the Dean of Academic Affairs and professor of government at Patrick Henry College in Purcellville, Virginia. He earned his Ph.D. at Georgetown University and is the co-founder and president of the online journal Front Porch Republic. His six previous books include The Limits of Liberalism, The Politics of Gratitude, and Localism in the Mass Age: A Front Porch Republic Manifesto (co-editor).
Praise For Power and Purity: The Unholy Marriage That Spawned America's Social Justice Warriors…
"Those seeking to understand the contemporary Social Justice Warrior phenomenon blighting the public square often turn to Karl Marx. But Mark T. Mitchell points us to another epochal nineteenth-century thinker: Friedrich Nietzsche, whose teachings are far more influential than many grasp. Power and Purity is a vital key unlocking the mysterious forces behind today's revolutionary challenges to a decaying democratic order. This book's brevity and its razor-sharp clarity make it accessible to both students and ordinary readers, who desperately need to grapple with the ideas that increasingly dominate our post-Christian peoples."
— —Rod Dreher, author of The Benedict Option

"Nearly everyone has a theory on the rise of identity politics and illiberalism on the Left, but no one has seen further and more deeply than Mark Mitchell. Recognizing its root causes in the caustic wedding of Nietzsche's 'will to power' and a Puritanism without Christian grace, Mitchell weaves a compelling and frightening story of a new philosophy informing the intolerant tactics of the 'woke.' More frightening still, these currents arise from within currents of Western civilization itself, meaning that any remedy to this pathology requires a self-cure. Reading Mitchell's book is an indispensable first step."
— —Patrick Deneen, Professor of Political Science at the University of Notre Dame and author of Why Liberalism Failed

"Nietzsche is the key to understanding identity politics; and the sooner we understand that, the sooner we can diagnose—and fight—it. Conservative rambling about multiculturalism's being the root of identity politics is hopelessly misguided. Power and Purity is the first book to get to the root of the disease of identity politics."
— —Joshua Mitchell, Professor of Political Theory at Georgetown University

"Why is it that postmodernists who believe there are no moral absolutes are so moralistic? Why have universities replaced rational discourse with silencing and punishing those who hold dissident ideas? Why is identity politics so vicious? Having read Mark Mitchell's Power and Purity, now I know. This book, which combines scholarly depth and a lively, readable style, will help readers navigate the strange paradoxes of contemporary politics, academia, and culture."
— —Gene Edward Veith, Emeritus Provost and Professor of Literature at Patrick Henry College