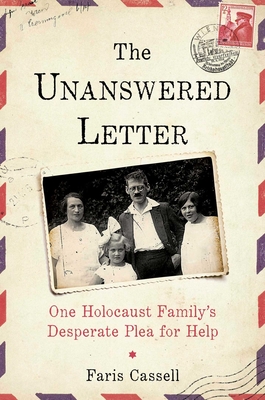 The Unanswered Letter (Hardcover)
One Holocaust Family's Desperate Plea for Help
Regnery History, 9781684510177, 320pp.
Publication Date: September 1, 2020
* Individual store prices may vary.
Description
Dear Madam — You are surely informed about the situation of all Jews in Central Europe and this letter will not astonish you.

In August 1939, just days before World War II broke out in Europe, a Jewish man in Vienna named Alfred Berger mailed a desperate letter to a stranger in America who shared his last name.

By pure chance I got your address . . . I beg you instantly to send for me and my wife...

Decades later, journalist Faris Cassell stumbled upon the stunning letter and became determined to uncover the story behind it. How did the American Bergers respond? Did Alfred and his family escape Nazi Germany? Over a decade-long investigation in which she traveled thousands of miles, explored archives and offices in Austria, Belarus, Czech Republic, and Israel, interviewed descendants, and found letters, photos, and sketches made by family members during the Holocaust, Cassell wrote the devastating true story of The Unanswered Letter.
About the Author
Faris Cassell was a feature writer/weekly book reviewer for Eugene's daily newspaper, The Register-Guard (circulation then about 80,000) for ten years. She received her M.S. in Journalism from the University of Oregon and her B.A. in History from Mt. Holyoke College.
Praise For The Unanswered Letter: One Holocaust Family's Desperate Plea for Help…
"The author vividly portrays a rich culture's unspeakably cruel destruction...the story is a historical treasure." -Kirkus Reviews

"It's possible that The Unanswered Letter, which brings a far more global perspective to the Holocaust than do most survivors' memoirs, will typify the new scholarship" -San Diego Jewish World

"Through her determined investigation, Cassell illuminates a hitherto unknown chapter of the Holocaust: the heart-stopping story of Alfred and Hedwig Berger, 'a blind salesman of socks and a homemaker with a song in her heart.'" -The National Book Review