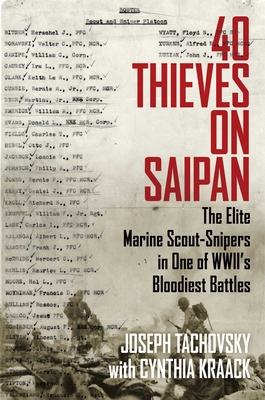 40 Thieves on Saipan (Hardcover)
The Elite Marine Scout-Snipers in One of WWII's Bloodiest Battles
Regnery History, 9781684510481, 338pp.
Publication Date: June 2, 2020
Other Editions of This Title:
MP3 CD (6/30/2020)
Compact Disc (6/30/2020)
* Individual store prices may vary.
Description
Before there were Navy SEALs, before there were Green Berets, there were the 40 Thieves: the elite Scout Sniper Platoon of the Sixth Marine Regiment during World War II.

Behind enemy lines on the island of Saipan—where firing a gun could mean instant discovery and death—the 40 Thieves killed in silence during the grueling battle for Saipan, the "D-Day" of the Pacific.

Now Joseph Tachovsky—whose father Frank was the commanding officer of the 40 Thieves, also called "Tachovsky's Terrors"—joins with award-winning author Cynthia Kraack to transport readers back to the brutal Battle of Saipan. Built on hours of personal interviews with WWII veterans, their personal papers, letters and documentation from the National Archives, 40 Thieves on Saipan is an astonishing portrayal of elite World War II combat. It's also a rare glimpse into the lives of World War II Marines. The poorest equipped branch of the services at that time, Marines were notorious thieves. To improve their odds for victory against the Japanese, they found it necessary to improve their supply chains through "Marine Methods," stealing. Being the elite of the Sixth Regiment, the Scout-Sniper Platoon excelled at the craft—earning them the nickname of the "40 Thieves" from their envious peers. Upon returning from a 1943 trip to the Pacific theater, Eleanor Roosevelt observed, "The Marines I have met around the world have the cleanest bodies, the filthiest minds, the highest morale and the lowest morals of any group of animals I have ever seen. Thank God for the United States Marines."
About the Author
Joseph Tachovsky is a graduate of the Univerity of Minnesota. His father Frank Tachovsky was the commading officer of the 40 Thieves of Saipan, who were also known as Tachovsky's Terrors.

Cynthia Kraack is the author of five novels including The High Cost of Flowers, winner of both the Midwest Book Award in Contemporary Fiction, and, Literary Fiction. Cynthia completed her MFA in Literary Fiction at the University of Southern Maine's Stonecoast Program in Creative Writing. She holds a bachelor's degree in Journalism with a double major in History from Marquette University and a master's degree in Industrial Relations and Career Counseling from the University of Minnesota.