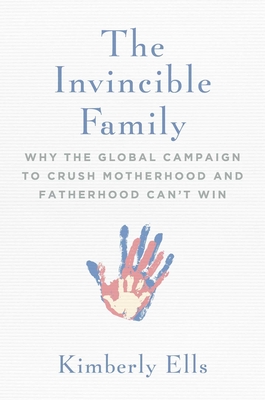 The Invincible Family
Why the Global Campaign to Crush Motherhood and Fatherhood Can't Win
Hardcover

* Individual store prices may vary.
Other Editions of This Title:
Compact Disc (10/6/2020)
MP3 CD (10/6/2020)
Description
The Fight for the Family

Socialists and feminists have long targeted the family as an enemy, even the enemy. For socialists, the family is an obstacle to the full power of the progressive state. For feminists, the family denies female independence and equality. Today, however, the battle has grown even fiercer, as socialists and feminists have found a global ally in the United Nations, which is using its extraordinary power to undercut the authority and the sanctity of the family around the world—even in the United States. International policy advisor Kimberly Ells exposes this unholy alliance between globalist liberals, feminists, and socialists, and unveils the shocking harm being done, right now, to women and children in America and around the world. In The Invincible Family you'll learn:

-How, in the name of "equality," women are actually losing what should be inherent rights

-How "science" is being intentionally perverted to advance an entirely unscientific agenda

-Why the globalization of anti-family policies is a direct threat to our own families in the United States

-Why there is still hope that the unholy alliance of feminists, socialists, and liberals can be defeated

The Invincible Family is a shocking and essential report on how your family could be threatened— and what you and all concerned citizens can do to defend the institution of the family and our inherent human rights.
Regnery Gateway, 9781684510559, 332pp.
Publication Date: July 21, 2020
About the Author
KIMBERLY ELLS is a policy advisor for Family Watch International, where she works to protect children from early sexualization and to promote the family as the fundamental unit of society. Kimberly is an avid researcher and writer on family issues, has authored policy briefs for international distribution, and has spoken at the United Nations and other venues across the country. She graduated from Brigham Young University with a degree in English. She is married and is the mother of five children.