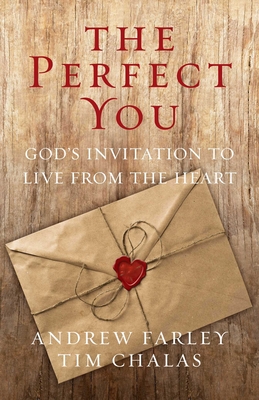 The Perfect You
God's Invitation to Live from the Heart
Paperback

* Individual store prices may vary.
Description
Widespread teachings mistakenly teach that you – as a believer – have a "wicked" and "deceitful" heart that needs to be tested, not trusted. This inevitably leads to a spiritual experience marked by duty and obligation that's only an imitation of all that Jesus promised.

This provocative book invites you to a new approach- an inspiring move from head to heart that affects everything you do:

- how you handle conflict
- how you communicate and love others
- how you view yourself and God

There's a place within you where Jesus lives. It's a place of purity much like the Holy of Holies from the Old Testament. God calls you to live from this new place – not merely from your head, but from your heart.

Knowing the "perfect you" means no more pretending. Knowing the "perfect you" brings a newfound freedom in Jesus like you've never experienced before.
Praise For The Perfect You: God's Invitation to Live from the Heart…
"I now realize how exciting it is to live from my new heart. Everything in this new life flows from knowing 'the perfect you' and trusting Jesus within. In this captivating book, Andrew Farley and Tim Chalas invite you to celebrate God's perfect (and accurate!) view of you. You'll discover how to authentically live in God's grace and be freely inspired by the new, beautiful heart He gave you."

-Bart Millard, singer/songwriter for MercyMe
Salem Books, 9781684511273, 320pp.
Publication Date: March 16, 2021
About the Author
Dr. Andrew Farley (Ph.D., University of Illinois) is the lead teaching pastor at Church Without Religion, a non-denominational Bible church that began more than fifty years ago in Lubbock, Texas. Andrew is a nationally syndicated radio host whose program airs every weeknight in all fifty states and throughout Canada. He is also a bestselling author of seven books with Salem Books, Zondervan, and Baker Publishing Group. Andrew serves as president of Network 220, an association of more than 120 churches and ministries that share in common a focus on God's grace and new identity in Christ.

Timothy Chalas is senior pastor of Grace Life Fellowship, a non-denominational evangelical church in Baton Rouge, Louisiana. Tim serves as vice president of Network 220 and regularly speaks at churches all over the United States and beyond. He also regularly co-teaches with Andrew Farley on stage at events and in podcasts.