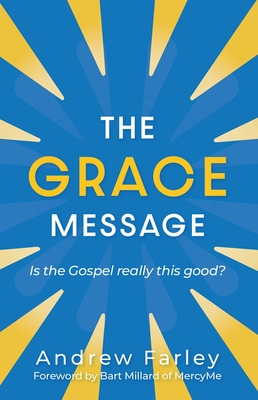 The Grace Message
Is the Gospel Really This Good?
Paperback

* Individual store prices may vary.
Description
Grace. It's a word we all know, yet do we really believe in God's grace?

Grace is both essential and dazzling. It raises eyebrows. It begs questions. Grace turns everything upside down.

A radical and inspiring book, The Grace Message invites you to get in on the best flavor of Christianity and celebrate the good news of the Gospel like never before. Andrew Farley's no-nonsense straight talk will awaken you to a revolutionary perspective every healthy Christian should have.

Life is too short to miss out on God's best, and what you don't know about God's grace can hinder you from experiencing Jesus in every area of your life. So, if you've been weighed down by ruthless religion or you've been searching for that high-octane version of the Gospel that you know must exist, this is it.

Get ready to be boosted into a remarkable, new confidence. This thought-provoking book will challenge you to dismiss the lies you've believed and to make up your own mind about how big God's grace really is.
Salem Books, 9781684511280, 208pp.
Publication Date: March 8, 2022
About the Author
ANDREW FARLEY is quietly helping millions of people discover the beauty of their new identity in Jesus Christ. He serves as lead pastor of Church Without Religion, a non-denominational church on the high plains of West Texas. Andrew is also the author of seven bestselling books, including The Naked Gospel and Twisted Scripture. Andrew Farley LIVE, a nationwide call-in radio program, airs across North America every weeknight at 8 p.m. Eastern. Andrew and his wife, Katharine, live in West Texas with their son.