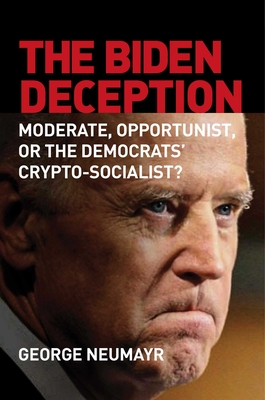 The Biden Deception
Moderate, Opportunist, or the Democrats' Crypto-Socialist?
Hardcover

* Individual store prices may vary.
Other Editions of This Title:
Compact Disc (10/13/2020)
MP3 CD (10/13/2020)
Description
A Socialist in Sheep's Clothing
That's what Joe Biden is.
"Ordinary Joe" bills himself as a unifying "moderate," but he's far more dangerous than many realize. In fact, he's on board with the extreme Left on every vital issue—from the "Green New Deal," to trampling on the constitutional rights of gun owners and Christians, to socialist schemes that threaten to turn the United States into Venezuela.
George Neumayr, a savvy and seasoned reporter, exposes Biden's radicalism and proves—often with the candidate's own words—why his presidency would be a disaster for America.
In
The Biden Deception
, you'll learn how and why a Biden administration would:
Undercut law and order
Erase our national borders
Insist on abortion on demand across the country
Repeal the Trump tax cuts
Treat Communist China as an ally rather than a dangerous foe
Pick up where Obama left off in "remaking" America—but far more aggressively
Be the stepping-stone to power for an even more leftist Democratic Party that takes its cue from "AOC and the Squad"
All elections are important, but 2020 will determine whether the U.S. becomes a socialist state—modeled on "lockdown America"—or renews its commitment to freedom and capitalism. Read
The Biden Deception
and don't be fooled.
Regnery Publishing, 9781684511310, 256pp.
Publication Date: September 15, 2020
About the Author
George Neumayr is the author of The Political Pope and co-author of No Higher Power: Obama's War on Religious Freedom. He has served as executive editor of the American Spectator and Catholic World Report, op-ed editor for Investor's Business Daily, and media fellow at Stanford's Hoover Institution. Neumayr has written on politics and religion for the Washington Times, The Daily Caller, National Review Online, Human Events, the Washington Examiner, The Hill, and The Guardian.