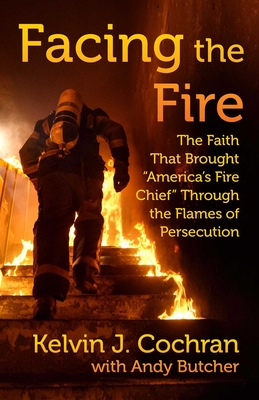 Facing the Fire
The Faith That Brought "America's Fire Chief" Through the Flames of Persecution
Hardcover

* Individual store prices may vary.
Other Editions of This Title:
Digital Audiobook (10/11/2021)
Compact Disc (11/2/2021)
MP3 CD (11/2/2021)
Description
Decades fighting other people's fires prepared Kelvin Cochran to face his own fiery trial. He overcame poverty, prejudice, and pain to fulfill a childhood dream of helping others, rising to the top of firefighting's professional ladder in Atlanta, Georgia.

At one time nationally recognized as "America's fire chief," Kelvin unexpectedly found himself caught in a fireball of controversy over his orthodox Christian beliefs, for which he ultimately was fired by the city—making him a focal point in a national battle over religious freedom.

Misrepresented by activists and the media, Kelvin relied on his faith to bring him through. In due course he emerged from the flames of scandal unscathed, like the friends of the prophet Daniel who were thrown into the burning furnace.

Kelvin's story is a sobering warning of how Christians faithful to biblical teachings are increasingly at risk of persecution in today's culture. It is also an inspiring example of overcoming racial prejudice and adversity, and finding the courage to take the heat and stand for the truth.
Salem Books, 9781684511617, 256pp.
Publication Date: October 12, 2021
About the Author
Dr. Kelvin J. Cochran has been Chief Operating Officer at Atlanta's Elizabeth Baptist Church, a 13,000-member congregation with five campuses, since 2015.

Prior to that, he had a distinguished 30-plus-year career as a firefighter, which included serving as "America's fire chief," the President Obama-appointed United States Fire Administrator. In 2012, he was named Fire Chief of the Year by the International Association of Fire Chiefs.

In addition to overseeing ministry operations at Elizabeth Baptist Church, Kelvin is a sought-after speaker to men's groups and on religious liberty issues across the country.

Born and raised in poverty in Shreveport, Louisiana, he earned a bachelor's degree in organizational management from Wiley College (1998), a master's in industrial and organizational psychology from Louisiana Tech University (2004), and a doctorate in interdisciplinary leadership from Creighton University (2018).

Kelvin and his wife, Carolyn, have been married for thirty-seven years and have three children and one grandchild. They reside in Atlanta, Georgia.