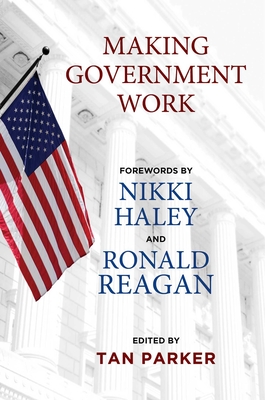 Making Government Work (Paperback)
Regnery Publishing, 9781684511686, 500pp.
Publication Date: September 29, 2020
* Individual store prices may vary.
Description
Making Government Work: A Conservative Agenda for the States is an updated version of the highly acclaimed 1994 original book. It serves as a modern-day guide for how as Americans we can move the states forward with common sense, conservative public policy initiatives to benefit the Nation as a whole. Making Government Work is a reminder that conservative reforms set the stage for unprecedented prosperity. The book contains a star-studded line up of some of today's most powerful voices, including Nikki Haley, Chuck Norris, Rick Perry, Kathy Ireland, Rick Santorum, Chad Hennings, Jeb Bush, Dr. Art Laffer and Bob Woodson along with many more.

"Making Government Work is for state government what the Contract with America was for the federal government. It is a sensible, fact based plan to create a better future through the application of sound principles." –Newt Gingrich, former Speaker of the House

The author's proceeds from the book will be donated to organizations that serve America's veterans.
About the Author
Tan Parker is a Republican member of the Texas House of Representatives and former chairman of the Texas House Republican Caucus. He is also a successful businessman and champion for keeping government accessible, accountable, and grounded in service to others.