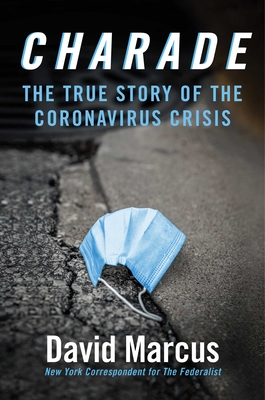 Charade
The True Story of the Coronavirus Crisis
Hardcover

* Individual store prices may vary.
Description
In March 2020, a pandemic plunged the world into the chaos of an unprecedented global shutdown.

But the chaos behind the scenes was far worse—and more alarming—than anyone realized.

David Marcus, the New York correspondent for The Federalist and a popular writer for the New York Post, draws from exclusive interviews with high-level White House and Trump administration sources to reveal what really happened during one of the strangest upheavals in the world's history--and what it means for the future of America.

Marcus's on-the-ground coverage of the COVID-19 pandemic reveals how an invisible agent forever changed our politics, technology, education, and parenting and fueled a race-related explosion of protest and violence that would dramatically transform the American conscience.

With the world on pause, stunned and isolated Americans were left asking one question: "How did this happen, and when will it end?"

The author of more than 40 coronavirus-related articles and a viral sensation after his May 20th call to reopen New York, Marcus makes use of firsthand accounts, government records, and endless examples of uncorrected news media mistakes to show that the great American lockdown of 2020 was the most spectacular charade of all time.
Regnery Publishing, 9781684511792, 256pp.
Publication Date: March 2, 2021
About the Author
David Marcus is the New York Correspondent for the Federalist where he has written since 2013. His work has also appeared in the New York Times, the New York Post, the New York Daily News, National Review Online, The Weekly Standard, and City Journal. David is the former Artistic Director of Blue Box World, a Brooklyn based theater project, and also a former president of the Bat acting company at the Flea Theater. He also was a participant in the 2018 National Security Seminar at the Army War College.