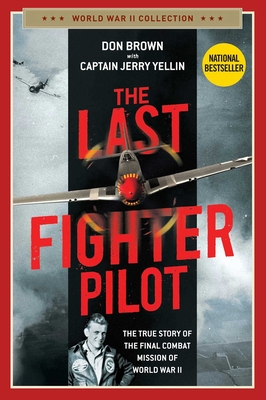 The Last Fighter Pilot
The True Story of the Final Combat Mission of World War II (World War II Collection)
Paperback

* Individual store prices may vary.
Other Editions of This Title:
MP3 CD (7/31/2017)
Compact Disc (7/31/2017)
Compact Disc (7/31/2017)
Description
*A NATIONAL BESTSELLER!*

The New York Post calls The Last Fighter Pilot a "must-read" book.

From April to August of 1945, Captain Jerry Yellin and a small group of fellow fighter pilots flew dangerous bombing and strafe missions out of Iwo Jima over Japan. Even days after America dropped the atomic bombs on Hiroshima on August 6 and Nagasaki on August 9, the pilots continued to fly. Though Japan had suffered unimaginable devastation, the emperor still refused to surrender.

Bestselling author Don Brown (Treason) sits down with Yelllin, now ninety-three years old, to tell the incredible true story of the final combat mission of World War II. Nine days after Hiroshima, on the morning of August 14th, Yellin and his wingman 1st Lieutenant Phillip Schlamberg took off from Iwo Jima to bomb Tokyo. By the time Yellin returned to Iwo Jima, the war was officially over—but his young friend Schlamberg would never get to hear the news. The Last Fighter Pilot is a harrowing first-person account of war from one of America's last living World War II veterans.
Regnery History, 9781684511891, 256pp.
Publication Date: May 11, 2021
About the Author
Don Brown, a former U.S. Navy JAG officer and Special Assistant United States Attorney, is the author of eleven bestselling legal and military books. His work includes the novel Treason (2005) and the exposé Call Sign Extortion 17: The Shoot-Down of Team Seal Six (2015), a highly detailed account of the most deadly American loss-of-life in the Afghan War—the shoot-down of a U.S. Army Chinook helicopter carrying thirty Americans, including seventeen members of the vaunted SEAL Team Six.

Captain Jerry Yellin was an Army Air Corps veteran who served in WWII between 1941 and 1945. Yellin enlisted two months after the bombing of Pearl Harbor on his 18th Birthday. After graduating from Luke Air Field as a fighter pilot in August of 1943, he spent the remainder of the war flying P-40, P- 47 and P-51 combat missions in the Pacific with the 78th Fighter Squadron. He participated in the first land based fighter mission over Japan on April 7, 1945, and also has the unique distinction of having flown the final combat mission of World War II on August 14, 1945 – the day the war ended. On that mission, his wing-man (Phillip Schlamberg) was the last man killed in a combat mission in WWII. After the war ended, Jerry struggled with severe undiagnosed PTSD. He always wondered why he survived, while so many of his comrades died during the war.