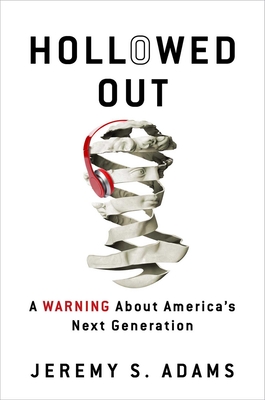 Hollowed Out
A Warning about America's Next Generation
Hardcover

* Individual store prices may vary.
Description
Something Essential is Missing in Our Youth . . .

America's teachers know something has gone terribly wrong. It's an open secret that civic and social decline has left our young people hollowed out—their reason undeveloped, their values uninformed, and their humanity diminished.

Digital hermits, students have little interest in marriage and family. They sometimes sneer at patriotism, often sympathize with riots and vandalism, and frequently despise the heroes who build the free, fair, and prosperous society they seek to dismantle. Often friendless and depressed, they eat alone, study alone, and even 'socialize' alone.

These problems have festered for years, but lockdowns and social distancing have magnified them, and educators are watching a generation slip from their grasp.

In Hollowed Out, Jeremy S. Adams, one of America's best high school teachers, reveals why students have rejected the wisdom, culture, and institutions on which Western civilization was built. As he poignantly explains, a radical individualism has captured the hearts and minds of young Americans, separating them from the values and habits necessary for human fulfillment and democratic self-government. Nevertheless, he insists there is still hope that parents, teachers, and other leaders can revive the souls of America's hollowed-out generation.
Regnery Publishing, 9781684511983, 256pp.
Publication Date: August 3, 2021
About the Author
Jeremy S. Adams, a high school and college political science teacher, was named DAR's California Teacher of the Year in 2014. His writing on politics and education has been featured in the Los Angeles Times, the Washington Post, C-SPAN, the Huffington Post, the Seattle Times, the Sacramento Bee, and The Educator's Room. A graduate of Washington & Lee University and the author of three previous books, Adams is married to his high school sweetheart, Jennifer, and is the father of three children.