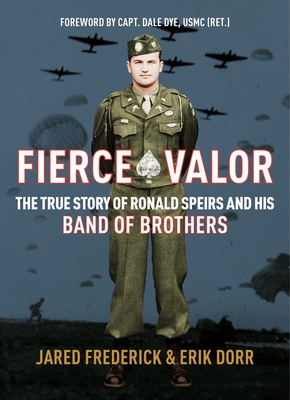 Fierce Valor
The True Story of Ronald Speirs and his Band of Brothers
Hardcover

* Individual store prices may vary.
Description
Fans of Stephen E. Ambrose and World War II tales of valor will love this portrait of the most controversial and ferocious of the celebrated Easy Company "Band of Brothers," detailing the life of a complex, driven, yet ultimately heroic soldier.

His comrades called him "Killer." Of the elite paratroopers who served in the venerated "Band of Brothers" during World War II, none were more enigmatic than Ronald Speirs. Rumored to have gunned down enemy prisoners and even one of his own disobedient sergeants, Speirs' became a foxhole legend amongst his troops. But who was the real Lieutenant Speirs?

In Fierce Valor, historians Jared Frederick and Erik Dorr unveil the full story of Easy Company's longest-serving commander for the first time. Tested by trials of extreme training, military rivalry, and lost love, Speirs's international odyssey begins as an immigrant child in Prohibition-era Boston, continues through the bloody campaigns in France, Holland, and Germany, and sheds light on his lesser known exploits in Korea, the Cold War, and embattled Laos.

Packed with groundbreaking research, Fierce Valor unveils a compelling portrait of an officer defined by boldness on the battlefield and a telling reminder that few soldiers escape the power of their own pasts.
Regnery History, 9781684511990, 320pp.
Publication Date: May 10, 2022
About the Author
Jared Frederick has dedicated his life to preserving the past. The author of numerous books including Hang Tough and Dispatches of D-Day, he served as a commentator on the American Battlefield Trust's Civil War in Four series and has appeared across PBS, C-SPAN, and other networks. Frederick currently serves as an Instructor of History at Penn State Altoona.

Erik Dorr is the owner of the Gettysburg Museum which houses the largest assortment of Easy Company artifacts in the world. The co-author of Hang Tough, Dorr has appeared on the History Channel, Syfy, Travel, and the Smithsonian Channel.