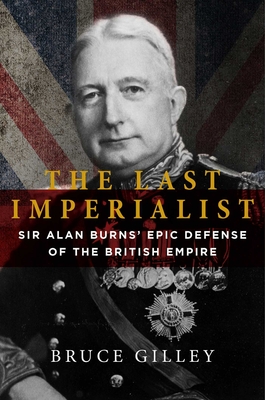 The Last Imperialist
Sir Alan Burns's Epic Defense of the British Empire
Hardcover

* Individual store prices may vary.
Description
The British Empire, one of the most powerful forces in history, was also one of the most humane. Yet at its twilight, few were willing to defy the anti-colonial reaction that condemned millions to despotism under the regimes that replaced it. Sir Alan Burns was among them.

In this lively and provocative work of history, Bruce Gilley vindicates Sir Alan's view that decolonization was poorly managed and too swiftly executed, a view based not on imperialist nostalgia but on a sober assessment of the ravages of the twentieth century.

Gilley demonstrates that Burns understood the benefits of colonial rule and correctly foretold the chaos that accompanied its rapid dissolution.

Relying on previously unavailable documentation from Burns's family, The Last Imperialist dethrones the revisionist historians and shatters their unbalanced accusations against European colonialism. This is history writing at its most courageous.

"Bruce Gilley has had to endure the most vituperative attacks for arguing that the European empires conferred benefits as well as imposed costs. . . Now, with this absorbing biography . . . Bruce Gilley has written a compelling as well as courageous work." —Niall Ferguson, Milbank Family Senior Fellow at the Hoover Institution, Stanford University
Regnery Gateway, 9781684512171, 256pp.
Publication Date: September 21, 2021
About the Author
Bruce Gilley is a professor of political science at Portland State University, a member of the board of the National Association of Scholars, and the author of four books. His 2017 article "The Case for Colonialism" drew international attention after he received death threats in response. A graduate of Princeton University and the University of Oxford, Gilley resides in Portland, Oregon.