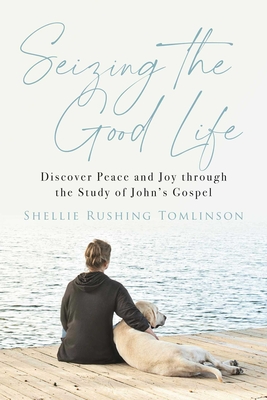 Seizing the Good Life
Discover Peace and Joy through the Study of John's Gospel
Paperback

* Individual store prices may vary.
Description
Living on high alert drains your energy and steals your joy. There is a better way and Seizing the Good Life will help you find it as it takes you through the Gospel of John.

Shellie Rushing Tomlinson believes we really can have a growing faith and know a surprising, sustaining joy despite the chaos of breaking news and a culture bent on erasing the Everlasting God. Seizing the Good Life takes the Gospel of John and teaches the reader how to believe and keep believing in our post-Christian world. We're not meant to hold onto a dry faith with chewed- up fingernails. We can know peace and joy in the middle of our anxious and angry culture, and Seizing the Good Life is ready to lead the way! With the Gospel of John as her roadmap, Shellie invites readers to join her in a faith-building Bible study. Using personal stories, insights, relevant Scripture, and a sprinkling of humor, Seizing the Good Life will help the reader discover the peace and joy found in the friendship of Jesus, lover of their soul.
Salem Books, 9781684513840, 208pp.
Publication Date: June 13, 2023
About the Author
I'm a farmer's wife and totally besotted grandmother of half a dozen beautiful grandchildren I fondly call The Super Six. I fell in love with storytelling as a child when my paternal grandmother regaled us with stories of what it was like to come to Louisiana from the hills of Appalachia and set up house in a tent with a dirt floor. On the other side of the family tree, my maternal grandfather, a people-loving preacher, was known for using humor to draw his listeners to Jesus. It's safe to say the two of them marked me. Whether in my books, speaking before audiences, or dropping a segment on my podcast, I love nothing more than helping hungry hearts feast on Jesus through humor and storytelling. Look for The Story Table podcast wherever you listen to your favorites, and come visit me at belleofallthingssouthern.com.