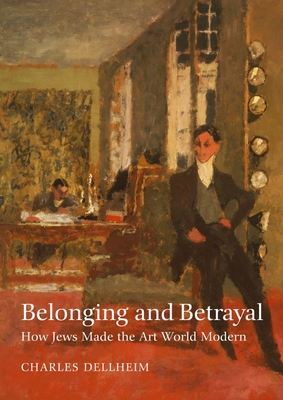 Belonging and Betrayal
How Jews Made the Art World Modern
Hardcover

* Individual store prices may vary.
Description
The story of dealers of Old Masters, champions of modern art, and victims of Nazi plunder.
 
Since the late-1990s, the fate of Nazi stolen art has become a cause célèbre. In Belonging and Betrayal, Charles Dellheim turns this story on its head by revealing how certain Jewish outsiders came to acquire so many old and modern masterpieces in the first place – and what this reveals about Jews, art, and modernity. This book tells the epic story of the fortunes and misfortunes of a small number of eminent art dealers and collectors who, against the odds, played a pivotal role in the migration of works of art from Europe to the United States and in the triumph of modern art. Beautifully written and compellingly told, this story takes place on both sides of the Atlantic from the late nineteenth century to the present. It is set against the backdrop of critical transformations, among them the gradual opening of European high culture, the ambiguities of Jewish acculturation, the massive sell-off of aristocratic family art collections, the emergence of different schools of modern art, the cultural impact of World War I, and the Nazi war against the Jews.
 
Praise For Belonging and Betrayal: How Jews Made the Art World Modern…
"(An) exceptional work of scholarship. A brilliant account of Nazi pillage and the ongoing efforts at restitution."
— Kirkus (starred review)

"A hefty, deeply researched book . . . A compelling portrait of the Jewish families who, unexpectedly, became arbiters of taste in Europe, beginning in the late 19th century and ending with Nazi plunder. Read if you're into: thinking about art history, Jewish history and where they intersect."
— Alma

"Readers of Dellheim's book will learn more about the history of modern art and European cultural history during times of upheaval and turmoil. Those who enjoy history and art history will enjoy this deep dive."
— Library Journal

"Dellheim's 600-plus-page tour de force [is] well-illustrated with paintings that its cast of characters collected and sold... [and] primary sources that reveal the extent of Nazi looting..."
— JewishBoston

"This is a magisterial book. Wide-ranging yet closely focused, detailed yet suspenseful, it should be required reading for all who make art or collect it. Gracefully written and sumptuously illustrated throughout, Belonging and Betrayal is an important--even indispensable--contribution to the field."
— Nicholas Delbanco, author of Why Writing Matters

"A major contribution to understanding a profound Jewish goal to belong and succeed, only to be betrayed by willful acts by Nazis and their collaborators. This impressive book will engage you, surprise you, anger you, and above all, enrich you."
— Richard I. Cohen, The Hebrew University of Jerusalem, author, Jewish Icons

"Brilliantly evocative and deeply researched, Charles Dellheim's Belonging and Betrayal is a superb addition to the ongoing discussion on art ownership, theft, and restoration."
— David H. Lynn, editor emeritus of The Kenyon Review
Brandeis University Press, 9781684580569, 672pp.
Publication Date: September 21, 2021
About the Author
Charles Dellheim is professor of history at Boston University. He is the author of The Face of the Past: The Preservation of the Medieval Inheritance in Victorian England and The Disenchanted Isle: Mrs. Thatcher's Capitalist Revolution.