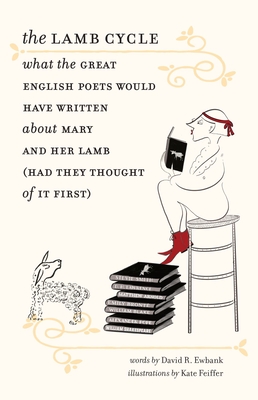 The Lamb Cycle
What the Great English Poets Might Have Written About Mary and Her Lamb (Had They Thought of It First)
Hardcover

* Individual store prices may vary.
Description
The rhyme "Mary Had a Little Lamb" told in the style—and substance—of the great English poets from Edmund Spenser to Stevie Smith.
 
In The Lamb Cycle, David R. Ewbank achieves the unthinkable—he writes so convincingly in the style of the great English poets that one could be lulled into thinking that Shakespeare himself was inspired to muse upon the subject of "Mary Had a Little Lamb." Ewbank captures not only the style of each of the poets he chooses, but also their preoccupations and subject matter. So D.H. Lawrence's Mary longs for her lamb as any woman longing for her lover, whilst T.S. Eliot's Mary is recollected by an old man looking back on his life. Alexander Pope writes an "An Essay on Lambs," and Tennyson's lotus eaters become "The Clover Eater." Brilliantly written, sophisticated, and laugh-out-loud funny, these poems, enhanced by Kate Feiffer's charming illustrations, will enchant anyone who has ever read an English poem.
 
Praise For The Lamb Cycle: What the Great English Poets Might Have Written About Mary and Her Lamb (Had They Thought of It First)…
"The Lamb Cycle made me laugh with delight even as it delivered a masterclass on poetic form. David R. Ewbank captures each of the great poets' stylistic tics and thematic preoccupations, and imbues them with a visionary verve all his own. The poems are perfectly paired with Kate Feiffer's elegant illustrations, brimming with wit and wonderment."
— Geraldine Brooks, Pulitzer Prize-winning novelist and author of March

"David Ewbank's versatility in the art of literary imitation is nothing short of shapeshifting. Here are 32 high-wire acts of poetic impersonation, which ironically elevate Mary and her famous little lamb, while honoring the great English poets—all to the delight of every reader's inner English major. Mother Goose herself rises to applaud, somehow. And Kate Feiffer's drawings are a charming bonus."
— Billy Collins
Brandeis University Press, 9781684581450, 60pp.
Publication Date: April 1, 2023
About the Author
David R. Ewbank is professor emeritus of English literature at Kent State University. He has authored A Distant Summer, and a collection of parodies Fairy Tales for Adults, famous stories as they might have been written by classic American authors. He also served as coeditor of the multivolume collection The Complete Works of Robert Browning.

Kate Feiffer's illustrations have appeared in magazines, newspapers, and on television. She is the author of eleven highly acclaimed children's books, including Henry the Dog with No Tail and My Mom is Trying to Ruin My Life, and the event producer for the Martha's Vineyard-based writers festival Islanders Write.