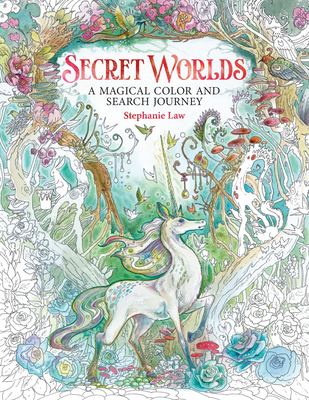 Secret Worlds
A Magical Color and Search Journey
Paperback

* Individual store prices may vary.
Description
An original twist on hidden pictures for all ages.
This collection of coloring pages celebrates the dreamlike art of Stephanie Law, with 30+ projects featuring intricate worlds of wonder and the beauty of nature, including dozens of hidden images within those artworks. Spark your imagination as you bring each image to life, finding secret treasures throughout the exquisitely detailed drawings. The answers are included in the back of the book.
Get Creative 6, 9781684620333, 80pp.
Publication Date: January 4, 2022
About the Author
Stephanie Law's images trace the boundary between dream and reality. She explores mythology in new contexts, chases tiny worlds of wonder from an insect's viewpoint, and highlights the beauty of growth and decay found in nature to create intricate pieces. Stephanie has been a dancer for almost two decades, and she uses that experience of how the human body moves and emotes to create a bridge into her artwork so that not only do the humans dance across the page, but the branches of her trees move with a sinuous grace, and the arrangement of inanimate elements has a choreographed rhythm and flow. Growing up in CA, Stephanie has been surrounded by the wealth of natural inspiration all around her. Her career has moved through the illustration and gaming world, but in recent decades she has focused more on her own body of work, gallery shows, and publications.