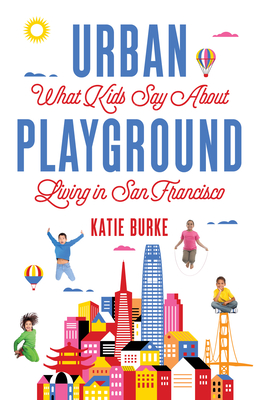 Urban Playground
What Kids Say about Living in San Francisco
Paperback

* Individual store prices may vary.
Description
Rural areas cover 97 percent of the United States--yet more than 80 percent of the US population lives in urban areas. What is life like for the millions of children who populate our nation's cities?
In Urban Playground, Katie Burke interviews fifty children, ages five to nine, who live in San Francisco. In each conversation, she explores one of ten different themes--family, school, pets, vacation, work, heroes, holidays, favorite foods, talents, and sports--followed by insights on the topic. She rounds out each segment with five questions for adults and kids to discuss after they've read it together, encouraging open, honest dialogue about young readers' thoughts on the subject matter at hand. Future books in the series will expand into other major U.S. cities. Fun, accessible, and interactive, Urban Playground is an important window into the ways children in cities think about and describe the most important aspects of their lives--which is every aspect of their lives.
Praise For Urban Playground: What Kids Say about Living in San Francisco…
An engaging series of glimpses into the minds and priorities of kids in San Francisco.."
— Kirkus Reviews

" Urban Playground is an entertaining introduction to San Francisco thanks to the charm, sense of wonder, and joy of its participants."
— Foreword Reviews

"In this charming, warm-hearted, often very funny book, Katie Burke takes us into the minds of children—a place we should all spend more time! Not only a wonderfully insightful kid's eye guide to San Francisco, Urban Playground is also an interactive manual for getting into the minds of your own—and your friends'—children. Reading its sweet—and sometimes quirky—interviews, is to see San Francisco with the freshest eyes possible."
—Janis Cooke Newman, author of A Master Plan for Rescue

"If you're seeking the honest truth from kids, you will find few better resources than Urban Playground: What Kids Say About Living in San Francisco, by San Francisco writer Katie Burke. Burke's StoryCorps-like interviews, quoting kids on everything from pupusas to Pride Week, reveal that the Bay Area remains a fertile ground for smart, confident, and fun-loving kids. Says a seven-year-old girl who's on the road to becoming an archaeologist, 'It usually takes about maybe a month or a year to dig up one dinosaur.' After reading this book, I wouldn't be surprised if she or another San Francisco kid figured out how to dig one up sooner!."
—Sally Smith, Editor and Co-Publisher, Noe Valley Voice

"Children make the best tour guides. In Katie Burke's lively Urban Playground series, young city-dwellers share how they experience all aspects of city life, from restaurants, holidays, people, and parks to pets, schools, sports, shops, and activities. Their observations are moving and thought-provoking, and reveal what makes a city interesting and unique. This book will appeal to adults and kids who wish to see (and re-see) San Francisco."
—Christina Clancy, The Second Home

"A fascinating peek into the minds of San Francisco's children. They are more insightful, creative and weird—in the best of ways!—than I'd ever imagined."
—Julia Scheeres, author of A Thousand Lives

"This delightful book of interviews of important San Franciscans—grade-school kids—works on so many levels. The wisdom of these children reveals what a great place San Francisco is to grow up in. As Willa notes, 'If it was medieval times, and San Francisco was a city with walls, we could still survive because we have everything we need.'"
—Joanna Biggar, author of Melanie's Song

"San Francisco as seen through the eyes of its youngest denizens. More than just an insider's guide to places parents should take their kids in the city, Katie Burke's stories are a revelation about the lives, imaginations, and dreams of our future generation. Kids really do say the darndest things."
—Scott James, journalist and author of San Francisco Chronicle bestsellers SoMa and The Sower

" Urban Playground invites a multi-generational exchange on the joys and hardships of living in one of America's greatest cities. What makes this an important work is its honest recording of children's voices, their fears and dreams. It is a poignant reminder that family is defined in many ways."
—Johnnie Bernhard, author of A Good Girl, How We Came to Be, and Sisters of the Undertow

"With so much to see and do, it's easy for anyone to fall in love with San Francisco. Katie Burke's new book beautifully captures the wonder of this great city through the lens of San Francisco's most inquisitive residents—our children."
—Rafael Mandelman, District 8 Supervisor

"Burke's writing captures the unique voice of each child she interviews, truly bringing to life the diversity of the city and giving the reader tons of ideas for things to do. Even if a trip to San Francisco isn't in the future, this book is still a fantastic resource for parents due to the discussion questions. I've used a couple of them with my own kids, and it's been eye-opening to hear their answers to questions I would have never thought to ask. Every city needs a book like this one, which allows reader of all ages to experience it through the eyes of a child."
—Megan Holt, Ph.D., Executive Director of One Book One New Orleans
Sparkpress, 9781684630165, 192pp.
Publication Date: April 7, 2020