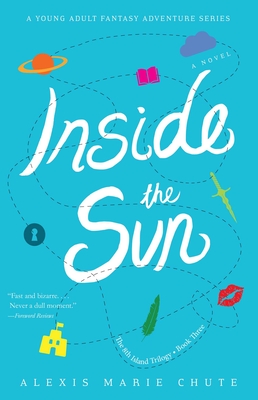 Inside the Sun
The 8th Island Trilogy, Book 3, a Novel
Paperback

* Individual store prices may vary.
Description
All worlds are dying, and it's up to one broken and dysfunctional family from Earth--the Wellsleys--to save the day. Cancer-ridden Ella celebrates her fifteenth birthday beneath an enchanted mountain, but it is what lies even farther below--the mysterious Star in the sea--that demands she grow up quickly. While Ella grapples with the sacrifice she must make and the lies she is forced to tell, her mother, Tessa, is hell-bent on protecting her. Through bizarre encounters, love-sick Tessa realizes that she is not the lonely orphan she believes. Her husband, Arden, and father-in-law, Archie, are not the only ones with magical bloodlines. This revelation changes everything. As Archie chooses to embody his unexpected ancestry, he learns that leading the charge in the ultimate battle against evil won't be as easy as he thought. He'll need his family--and the strange allies he has gained--by his side to give Ella enough time to set things right. Can they defeat the unstoppable Millia sands--and another unexpected foe--before everything they hold dear is destroyed? Or will their adventure tear them apart for good? The finale to The 8th Island Trilogy will hold you spellbound until the final page, and long after.
Praise For Inside the Sun: The 8th Island Trilogy, Book 3, a Novel…
"At its core, the novel conveys that though life's darkest moments may seem utterly unconquerable, finding a path through them always leads to an overwhelming brightness that surpasses all . . . a must-read for anyone needing inspiration and healing during seemingly insurmountable times of grief, loss, and devastation." ―US Review of Books "Inside the Sun is the finale to author Alexis Marie Chute's The 8th Island Trilogy. A deftly crafted novel showcasing her expertise and skills as a narrative driven novelist, Inside the Sun will prove to be an immediate and enduringly popular addition to school and community library YA Fiction collections." ―Midwest Book Review Praise for Above the Star, Book One in The 8th Island Trilogy:

"A Wrinkle in Time meets The Princess Bride . . ."
―Lee Lee Thompson, The Perpetual You magazine

"Will hold you spellbound until the last page."
―Readers' Favorite

Praise for Below the Moon, Book Two in The 8th Island Trilogy:

"This book will delight lovers of Neil Gaiman."
―Andrea Jarrell, author of I'm the One Who Got Away: A Memoir

"If you have any love for the fantasy-adventure genre, you need to be reading this series."
―Conor McCreery, author of Kill Shakespeare

Sparkpress, 9781684630455, 384pp.
Publication Date: April 21, 2020