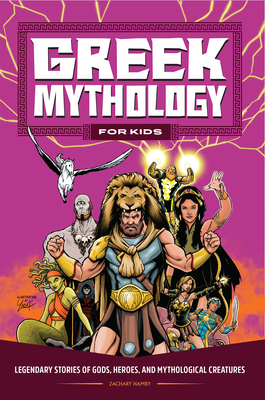 Greek Mythology for Kids
Legendary Stories of Gods, Heroes, and Mythological Creatures
Paperback

* Individual store prices may vary.
Description
Experience adventure and enchantment with Greek mythology for kids 8 to 12

Greek mythology continues to capture our imaginations with its tales of epic battles and star-crossed love. Whether you're fighting alongside Zeus in the war against the Titans or witnessing the sabotage of Artemis's love for the mortal Orion, this book will thrill you with extraordinary stories from Greek legend
Greek mythology for kids--Dive into the world of Greek myth with 20 exciting, kid-friendly tales, from "Prometheus, the Fire Thief" to "Penelope Outwits Her Suitors."
Bold illustrations--Watch the awe-inspiring world of Greek mythology come to life with vibrant illustrations of each story.
A guide to the Greeks--Learn who did what and where with a handy guide to characters and locations that makes exploring Greek mythology fun and easy.
Come face-to-face with the mighty heroes, vengeful gods, and treacherous monsters of Greek mythology

Rockridge Press, 9781685396824, 148pp.
Publication Date: August 16, 2022