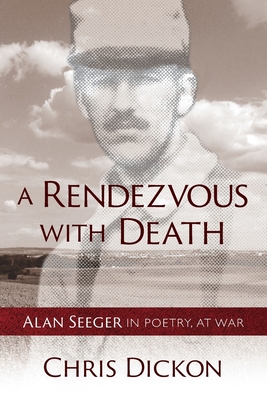 A Rendezvous with Death
Alan Seeger in Poetry, at War
Paperback

* Individual store prices may vary.
Other Editions of This Title:
Paperback (4/17/2017)
Description
As Alan Seeger perceived the landscape before him, everything was of a piece. Right and wrong were not ambiguous. Strife and tenderness had equal standing. All of it, good and bad, dark and light could only be seen and acted upon in the frame of a universe that was beautiful in its design and ultimately compassionate. Life was to be played out as it presented itself, justice was to be sought, and, in 1914, war was inevitable.He joined the French Foreign Legion. "I hope you see the thing as I do," he wrote to his mother in the month after the German invasion of Belgium and France " . . . the burden that so much of humanity is suffering under and, rather than standing ingloriously aside when the opportunity was given me, doing my share for the side that I think right . . ."He thrilled to the battle that was to come, and to the poetic notion that it might take his life. Resting from hard days of drilling with his fellows, he could lie in the grass and hear within the ground the "steady pounding of the distant cannonade." His was a vision of panoramas, and, as he marched toward the war, he saw 4,000 men moving forward before him in columns of four, "undulating" through the hills of France and firmly led by their captains and lieutenants on horseback."You have no idea how beautiful it is to see," he told his mother, who was ever the touchstone with the life he had left behind forever in America. From the author: The story of this important and nearly forgotten American poet has turned out to be much more than the story I imagined it would be. It will take us through two hundred and fifty years of history, and the eras of knights and warriors. We will travel from Staten Island to rural and urban Mexico, then to Tarrytown and Cambridge. We will be down and out in Greenwich Village, and brought to vitality in the streets of Paris, followed by a magnificent walk through the villages of northeastern France. We will live in the trenches and ruined chateaus of war, stand with the night sentry as he contemplates the sky - and there will be poetry.
Independently Published, 9781689382588, 312pp.
Publication Date: April 25, 2017