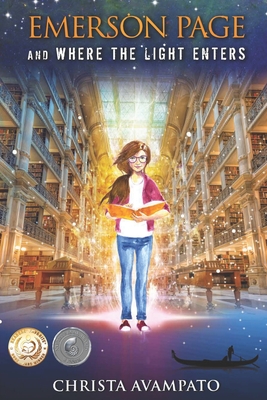 Emerson Page and Where the Light Enters
Paperback

* Individual store prices may vary.
Description
Awards: -2017 Nautilus Book Award for Young Adult Fiction (Silver)-2018 Reader's Favorite Gold Medal for Young Adult Adventure genre-2018 Wind Dancer Films Winner-2019 ScreenCraft Cinematic Book Award Finalist-2020 TopShelf Magazine Award NomineeReviews: "A suspenseful fantasy that delivers a richly layered, thought-provoking plot infused with messages about self-realization and the significance of imagination and creativity. The multilayered plot and vivid prose amply illustrate the tale's key themes: the importance of human imagination, the arts, and invention as well as the value in finding and sharing one's light." --Kirkus Reviews; Selected as one of only 35 indie review for their April magazine issue "The Woman Issue", stories by and about powerful women. READERS' FAVORITE 5-STAR REVIEW - "A big, imaginative, and beautiful coming of age tale that begs for a sequel. Able to win my heart from the very beginning with a powerful hook. A fascinating story deftly told, a tale of courage and a gritty investigation. A radiant adventure that is captivating and mystifying. The young heroine is brilliant and inspiring, curious and bold, strong and vulnerable, loving and powerful. A story that will enthrall both young adult readers and adults with powerful themes seamlessly woven into its fabric. It is all go, all the way through. A masterpiece. This story pulled me in deep, and there was no letting go until the last page. I hope that this is the first of many." Synopsis: Thirteen-year-old Emerson Page wants to know what happened to her mother, Nora, a world-renowned anthropologist well-known for her research on ancient cultures and languages. Five years ago, Nora was found on the steps of the Metropolitan Museum of Art. "We've never seen anything like it," said the NYPD. "It's as if she just fell asleep on the steps of the museum and never woke up." Eventually, the police gave up their search for answers. But Emerson didn't. Her journey to discover the answers about her mother's mysterious death takes her deep below the streets of New York City on a dangerous adventure into a magical world of books. There, she learns the stunning truth about her mother and her own destiny to continue her mother's legacy. Time is running out. An alarming threat looms large and too close to home. With the very existence of human imagination at stake, can Emerson find the strength to fulfill her mother's final wish before it's too late?
Independently Published, 9781694109415, 208pp.
Publication Date: September 18, 2019