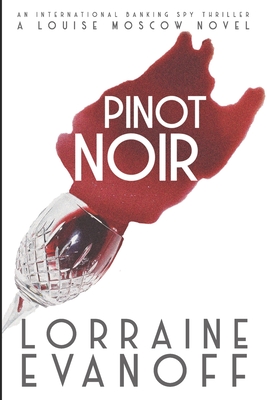 Pinot Noir
An International Banking Spy Thriller
Paperback

* Individual store prices may vary.
Description
BOOK EXCELLENCE AWARD WINNER, MYSTERY
B.R.A.G. MEDALLION HONOREE, HISTORICAL FICTION

Multi-billionaire banker and philanthropist, Ekram M. Almasi, has just been murdered...
And there's only one person who can uncover the mystery behind this international banking scandal:
Louise Moscow.
Able to handle a high-powered speedboat, an ex-lover, and a ginger-haired villain with equal ease, this international spy embarks on a journey that will take her to Monte Carlo, Paris, and Burgundy.
The amazing scenario, however, cannot hide a complicated and awful truth.
On her journey, Louise struggles against uncooperative witnesses, a mysterious vine disease, a gun-wielding monk, and a secret society.

Even though local investigators seem to have found the ideal culprit for the murder, the case is not as open-and-shut as it might seem...
What readers are saying about Pinot Noir:
★★★★★ - "A high concept "noir" adventure that goes down like a fine wine. Pinot Noir is one of the best thrillers I have read in recent times." Astrid Iustulin, Readers' Favorite
★★★★★ - "What a great sequel to Foliage Highly recommend this addictive thriller and be sure to have a yummy glass of red wine nearby " Nelle L'Amour, New York Times Bestselling Author
★★★★★ - "A great, modern thriller by Lorraine Evanoff. The writing crackles with a smart, sexy, intelligent energy and Louise Moscow is a credible, gutsy, fabulous heroine." Dominic Piper, International Bestselling Author
Independently Published, 9781698374178, 310pp.
Publication Date: October 21, 2019