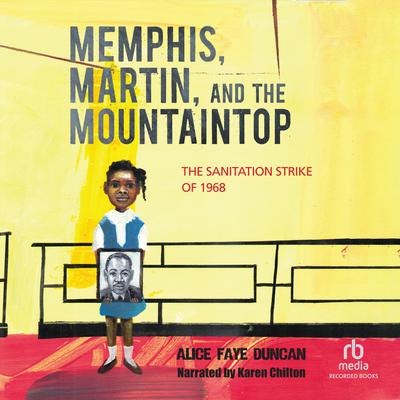 Memphis, Martin, and the Mountaintop (Digital Audiobook)
The Sanitation Strike of 1968
Publication Date: September 12, 2022
Other Editions of This Title:
Hardcover (8/28/2018)
Paperback (11/5/2024)
Description
For nine-year-old Lorraine Jackson, the Sanitation Strike of 1968 hit close to home.

Lorraine marched with her daddy and other sanitation workers through the streets of Memphis fighting for equal rights and safer working conditions. With her mother, she boycotted stores. Lorraine's life was forever changed when she heard Dr. Martin Luther King Jr. preach his famous sermon
"I've Been to the Mountaintop" to the tired and frustrated strikers. Dr. King was tragically killed the next day, and hope seemed shattered. But Lorraine, her family, and the people of Memphis pushed through those difficult times, because dreamers never quit.

Author Alice Faye Duncan based the character of Lorraine Jackson on a teacher who participated in the Memphis Sanitation Strike as a child. Using a riveting combination of poetry and prose, Alice Faye reveals the inspiring story of Dr. Martin Luther King Jr.'s final stand for justice.