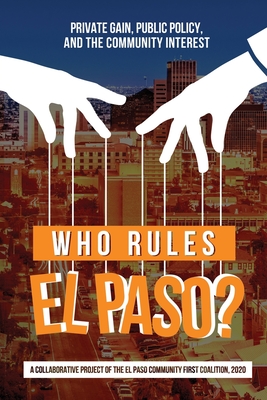 Who Rules El Paso?
Private Gain, Public Policy, and the Community Interest
Paperback

* Individual store prices may vary.
Description
Who Rules El Paso? To answer this question, a reader might respond that the mayor and city council representatives rule the city of El Paso. On deeper examination, less visible forces appear to shape many of the representatives' decisions-like puppeteers pulling the strings. In this evidence-based book with multiple sections, readers can better understand recent historical and current perspectives on developers' designs for the downtown, political campaign contributions, land deals, the travesty of the University of Texas at El Paso presidential appointment, and case studies of downtown boondoggles past and planned-all within the impending disaster of a heavily indebted city and high property taxes.
Independently Published, 9781710689044, 122pp.
Publication Date: November 25, 2019