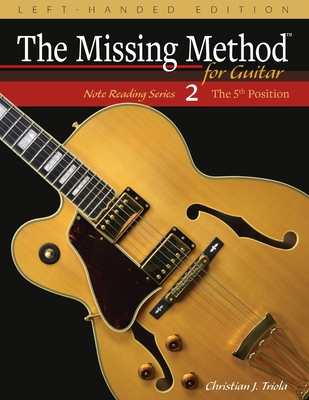 The Missing Method for Guitar, Book 2 Left-Handed Edition
Note Reading in the 5th Position
Paperback

* Individual store prices may vary.
Other Editions of This Title:
Paperback (6/30/2018)
Paperback (11/19/2018)
Paperback (4/17/2018)
Description
Remove the guesswork. Know Your Fretboard. Master Note Reading beyond the open position.
Many guitar methods touch on note reading in the open position, but that's where it ends. This leaves most guitarists having to figure out the rest of the fretboard on their own, which can be tedious, time-consuming, and downright frustrating. But not anymore.
Master the 5th Position and Unlock Your MusicianshipThis second book in the note reading series focuses exclusively on learning to read standard notation in the middle region of the neck. Whether you've already been playing guitar for a while or have just completed the first book in the series, Missing Method 2 will help you take your understanding and mastery of the fretboard to new heights.Discover the Power of Note ReadingLike all Missing Method books, when we say "mastery" we mean it. With clear instructions, examples, ample exercises and practice songs, when you've finished the book you'll know:
How to read notes in the middle of the neck (Frets 5-9), in every key
How to count and read triplet rhythms
Tips for memorization
How to read in Compound Time
How to read in minor keys, including relative minor, melodic, harmonic, and jazz-melodic minors
The Circle of Fifths and how it's used
Solidify Your SkillsMissing Method books are designed to develop mastery in a particular skill. To that end, in this book you will also:
Review open position
Solidify your rhythm skills
Practice and Play in every key
Learn scales in every key while you learn the neck
Learn more guitar music theory
Know how to hone your sight reading skills
Createspace Independent Publishing Platform, 9781717132482, 156pp.
Publication Date: April 19, 2018
About the Author
Christian J. Triola holds a Bachelor's Degree in Music (Jazz Studies) and a Master's Degree in Education, both from The University of Akron. He has taught guitar, bass, mandolin, ukulele, and piano for over 15 years and has played in a variety of bands in addition to his many solo performances. Outside the world of music, he is the author of six novels and several short pieces, writing under the pen name CN James with his wife, Amy Joy.