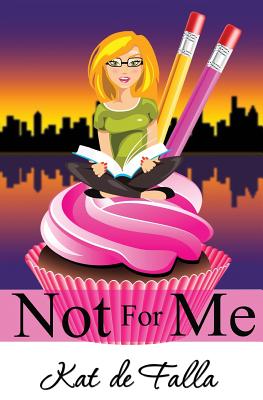 Not for Me
Paperback

* Individual store prices may vary.
Description
Manda Wolfgram is a struggling literary agent who is looking for the perfect manuscript to land in her lap and the perfect man to land in her bed. When the sixth-floor hottie finally asks her out, she gets more than she bargained for. How can a girl wrap her brain around a Shakespearean actor who writes erotica? Harry Sackes leads a double life: making a career as an author by day and dipping into the dark underworld of criminals at night. The moment he sees Manda in his twin brother's arms, his whole life becomes his personal Shakespearean trag-comedy of mistaken identity and unrequited love in this fast-paced chick lit romance.
Createspace Independent Publishing Platform, 9781717180360, 182pp.
Publication Date: May 24, 2018
About the Author
Kat was born and raised in Milwaukee, Wisconsin where she learned to roller skate, ride a banana seat bike, and love Shakespeare. She holds a Doctor of Pharmacy degree and is happily employed as a retail pharmacist. She is married to her soul mate, composer Lee de Falla and raising four kids together ala the Brady Bunch. Register for her newsletter to learn about her upcoming projects and find out about deals and giveaways at http: //eepurl.com/MFZ55 or connect with Kat here: Twitter: @katdefalla Facebook: www.facebook.com/authorkatdefalla Goodreads: www.goodreads.com/AuthorKatdeFalla Also by KAT DE FALLA: Dark Fantasy: THE 7 ARCHANGELS SERIES The Seer's Lover Darkwalker Middle Grade: MOTO MADDIE BMX PORTAL SERIES Flying Mutant Zombie Rats Slime Spewing Vampire Velociraptors Paranormal Suspense: HAUNTS FOR SALE SERIES writing as Kat Green First Contact Second Sight