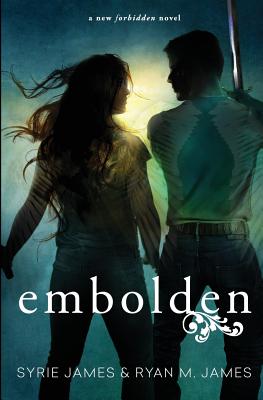 Embolden (Paperback)
(forbidden Book 2)
Independently Published, 9781718014459, 336pp.
Publication Date: August 10, 2018
Other Editions of This Title:
Paperback (10/31/2018)
* Individual store prices may vary.
Description
Internationally bestselling author Syrie James and her son Ryan M. James bring their trademark drama, humor, action, romance, and suspense to Embolden, the second book in this critically acclaimed series. The world is trying to tear them apart. Will they stand together and fight back? After a season of psychic visions and super-powered drama, Claire Brennan and her angel-gone-AWOL boyfriend Alec MacKenzie can finally be together. Under the protection of Claire's grandmother, they are trying to lead a normal life, going to high school at Emerson Academy and hanging out with their friends. But jealous teenagers, vengeful enemies, the city's new Watcher, and even the school play threaten to break them apart. Not to mention Claire's surprising second power, which could sabotage the trust of everyone she holds dear. And just when they need to stick together, they finally get a lead on where Claire's missing father might be. The threats, which come not only from without but also from within, will test the strength of Alec and Claire's relationship. Is the love they share enough to keep them safe? If they want to stay together ... can they learn to fight together? PRAISE FOR EMBOLDEN: "5 stars ... Like the first time, I devoured it again in one sitting and cherished the tandem of Alec and Claire ... I felt like I was watching a movie with superb scriptwriting ... I was so invested and just kept turning the page. Now I am biting my nails in anticipation on what comes next." - NightlyReading "I read Forbidden and Embolden in three days. Absolutely loved them both I love Syrie James so as soon as I saw her name I had to read it. Thank you for a great story. 4 stars " -Bloom Magic.