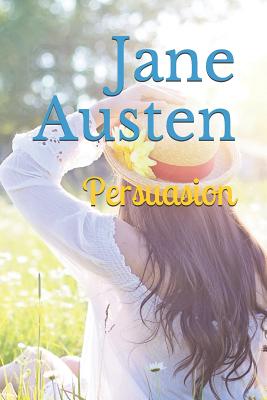 Persuasion
Paperback

* Individual store prices may vary.
Other Editions of This Title:
Paperback (4/5/2014)
Paperback (7/17/2018)
Paperback (4/27/2012)
Paperback (7/23/2018)
Paperback (1/30/2017)
Paperback (5/12/2013)
Paperback (9/18/2014)
Paperback (2/2/2013)
Paperback (6/14/2018)
Paperback (7/2/2018)
Paperback (3/5/2018)
Paperback (3/29/2018)
Paperback (5/7/2015)
Paperback (12/17/2011)
Paperback (6/6/2013)
Paperback (9/16/2012)
Paperback (10/19/2007)
Paperback (6/12/2019)
Paperback (12/7/2016)
Description
Persuasion is Jane Austen's last completed novel. She began it soon after she had finished Emma and completed it in August 1816. She died, aged 41, in 1817; Persuasion was published in December of that year (but dated 1818). In many respects, Persuasion marks a break with Austen's previous works, both in the more biting satire directed at some of the novel's characters and in the regretful, resigned outlook of its otherwise admirable heroine, Anne Elliot, in the first part of the story. Against this is set the energy and appeal of the Royal Navy, which symbolises for Anne and the reader the possibility of a more outgoing, engaged, and fulfilling life, and it is this worldview which triumphs for the most part at the end of the novel. More than eight years before the novel opens, Anne Elliot, then a lovely, thoughtful, warm-hearted 19-year old, accepted a proposal of marriage from the handsome young naval officer Frederick Wentworth. Now 27 and still unmarried, Anne re-encounters her former love when his sister and brother-in-law, the Crofts, take out a lease on Kellynch. Wentworth is now a captain and wealthy from maritime victories in the Napoleonic wars. However, he has not forgiven Anne for rejecting him. Persuasion is widely appreciated as a moving love story despite what has been called its simple plot, and it exemplifies Austen's signature wit and ironic narrative style. While writing Persuasion, however, Austen became ill with the disease that would kill her less than two years later. As a result, the novel is both shorter and arguably less polished than Mansfield Park and Emma since it was not subject to the author's usual careful retrospective revision. Austen biographer Claire Tomalin characterises the book as Austen's "present to herself, to Miss Sharp, to Cassandra, to Martha Lloyd . . . to all women who had lost their chance in life and would never enjoy a second spring." Follow your dreams, follow your star Bookmark Star Publishing.
Independently Published, 9781718115279, 220pp.
Publication Date: August 11, 2018