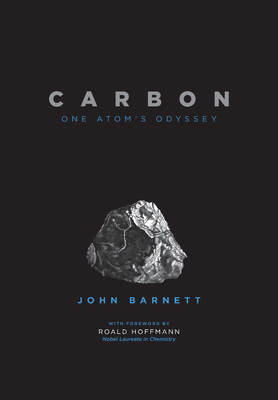 Carbon
One Atom's Odyssey
Hardcover

* Individual store prices may vary.
Description
A richly illustrated history of a single atom of carbon, tracing its many manifestations from the Big Bang to the present.

Carbon: One Atom's Odyssey is an illustrated adaptation of 'Carbon,' a short story from Italian chemist, writer, and Auschwitz survivor Primo Levi. It traces the life story and many molecular manifestations of a single atom of this life-essential element.

You'll follow one atom from its spectacular birth 14 billion years ago through its harrowing journey on planet earth where it has become a basic building block of nearly 10 million known compounds in living things. You'll learn that carbon:


• Is breathed in by the Peregrine Falcon
• Helps trees grow strong and tall
• Lets a moth's eye make sense of light
• Is found in your pencil as well as in your liver
• And even helps convert grapes into wine

In this wondrous graphic journey, clever narrative and detailed art help bring to life the natural world and teach you a thing or two about how it was created. For anyone with a general interest in chemistry, physics, and the science of the universe, this beautiful book will both educate and inspire. If you're ready for a STEAM adventure, then let the journey begin!
Praise For Carbon: One Atom's Odyssey…
"Carbon is one of those rare works that vividly conveys the wonder and excitement of scientific understanding. By combining stunning drawings with thoughtful meditations on one of life's central elements, John Barnett brings to life the many-layered way we think and learn about the natural world." 
—Sean Carroll, author of Something Deeply Hidden: Quantum Worlds and the Emergence of Spacetime

"This gorgeous tribute to the element carbon, the chemical backbone of life on Earth, will remind you of all the ways that chemistry itself is beautiful, fundamental, and even (I say) just plain cool." 
—Deborah Blum, author of The Poisoner's Handbook: Murder and the Birth of Forensic Medicine in Jazz Age New York

"A tribute to Primo Levi as much as it is to the remarkable carbon atom. For to John, as to many others, chancing upon 'The Periodic Table' was transformative. The images you see testify to how different the world becomes after that book finds its way into our imagination. . . . Here John Barnett invites us to follow the atom in its wondrous graphic journey." 
—Roald Hoffmann, Nobel Laureate in Chemistry (from the foreword)

"Engrossing—a biography of one of the most important subjects on earth (and everywhere else)."
—Bill McKibben, author of The End of Nature

"A delightfully imaginative story of the whole wide universe and the mysterious connectedness of every little thing in it, including you and me. Barnett explores the magical continuity—the ebb and flow—of all matter with vivid intimacy and quirky humor, and his gorgeous hand-drawn illustrations will absolutely stun you. . . . I'll be urging this superb book on anyone I know at all interested in nature, art, and humanity."
—Rosemary Mahoney, author of Down the Nile and For the Benefit of Those Who See

"John Barnett's book is artful chemistry: out of the movements of atoms, he creates poetry. Prepare for a brainy—and beautifully illustrated—intellectual adventure!"
—George Zaidan, executive producer at The American Chemical Society, author of Ingredients

"Fans of Primo Levi's The Periodic Table will love John Barnett's exquisitely illustrated and poetic homage to Levi and carbon-based lifeforms. Carbon is a whimsical, heartfelt and profound meditation on the transitory nature of the element that makes life possible."
—Anil Ananthaswamy, Knight Science Journalism Fellow 2019-20, MIT, author of The Edge of Physics, The Man Who Wasn't There, and Through Two Doors at Once

"The mesmerizing drawings driving the narrative of John Barnett's Carbon constitute an insightful and personal tribute to Primo Levi. This small volume is a magnificent example of the power of Levi's work to ignite our imagination."
—Alessandro Cassin, Director of Publishing, Centro Primo Levi NY

"Barnett's lovely Carbon is enchanted, akin of Primo Levi."
—Dudley Herschbach, Professor Emeritus at Harvard University and 1983 Nobel Laureate in Chemistry

"Charming and captivating - I love this book. The story of a transformative planetary element, told in delightful narrative with vivid drawn scenes, produced - how wonderfully - with the same heroic carbon that gives us life. John Barnett has succeeded in making the ordinary extraordinary, and there can be no better tribute to Primo Levi."
—Gaia Vince, science journalist and author of Adventures in the Anthropocene (Winner of Royal Society Winton Prize for Science Books)

"Anything that puts me at the intersection of great science and great art is an inspiring gift! I don't think I've seen a better ticket to this destination than John Barnett's Carbon. The fact that it was created with the element it celebrates makes it especially charming."
—Mat Kaplan, host and producer of Planetary Radio at The Planetary Society

"A history of the universe, Earth, and life in 60 pages? Somehow John Barnett has pulled off this feat in a uniquely beautiful book that couples lyrical prose and illustrations wrought with the precision of fine engravings." 
—Tim Folger, contributing writer at Discover and National Geographic

"Exquisite — a treat for the eyes and the mind."
—Steven Pinker, Johnstone Professor of Psychology, Harvard University, and the author of Enlightenment Now

"John Barnett's brilliant drawings take us on an epic journey alongside the titular atom to reveal the ways in which we are connected to, well, everything. It's a captivating experience sure to leave the reader looking at themselves and the world around them in a new way."
—Nick Sousanis, author of Unflattening

"Primo Levi wrote that of all the elements, carbon 'says everything to everyone.' John Barnett's beautifully illustrated tribute to Levi reminds us that while the journey of carbon is universal, its paths are as varied and complex as life itself."
— Michelle Nijhuis, author of Beloved Beasts: Fighting for Life in an Age of Extinction
 
"The most important element for life as you've never seen it before—in all its booming, buzzing glory."
—Sam Kean, author of The Disappearing Spoon and The Bastard Brigade

"Barnett follows one atom of element 6 across millions of years. While Levi did so in words, Barnett makes this trek a visual one, illustrating each step of the way, appropriately enough, with pencil-drawn illustrations. . . . Narration accompanies a few of these illustrations, but just as often they speak for themselves. It lends to a meditative feel, encouraging the reader to take their time until the story winds up at a most appropriate ending."
—The Episodeic Table of Elements

"Especially appropriate for STEM based science curriculums, Carbon: One Atom's Odyssey is especially and unreservedly recommended for school and community library Popular Science collections. It should be noted for the personal reading lists of Organic Chemistry, Biochemistry, and Environmental Science students and non-specialist general readers with an interest in these subjects."
—James Cox, Midwest Book Review

"Some images feel like snapshots—a peregrine falcon flaring its wings, a horse midstride, a limestone cliff. Others are almost dream-like: it takes a moment for rows of plants on a tea farm or a field of sea ice breaking up to come into focus. Barnett finds clever ways to bring Carbon's theme of unity into the drawings too. A reader might flip back and forth between images of veins in a leaf and a sprawling city seen from above to wonder if they are actually the same drawing at different levels of magnification."
—Sam Lemonick, Chemical and Engineering News

"Beautiful . . . lovingly and exquisitely illustrated."
—Mat Kaplan, Planetary Radio

Washington Post book writer Ron Charles recommended as a gift for a student going to Virginia Tech's College of Natural Resources and Environment
No Starch Press, 9781718501225, 64pp.
Publication Date: May 12, 2021
About the Author
John Barnett is a life-long, self-taught lover of science. His favorite job was as a shepherd in Cornwall, England. For many years he enjoyed working as a carpenter, even building his own sailboat which, last he knew, still floats. For the past decade he has called himself a graphic designer and illustrator, skills he has applied toward many books. This book is the first of his own. The drawings within were done 'old-school' with fine-tipped mechanical pencils on paper. John currently lives on the shore of (and quite often on) Narragansett Bay in Rhode Island with his wife and three children.

Roald Hoffmann was born in 1937 in Zloczow, then Poland. He came to the US in 1949, and has long been at Cornell, active as a theoretical chemist. In chemistry he has taught his colleagues how to think about electrons influencing structure and reactivity, and won most of the honors of his profession. Hoffmann is also a writer, carving out his own land between poetry, philosophy, and science. He has published six books of non-fiction, three plays, and six volumes of poetry, including two book length selections of his poems in Spanish and Russian translations.