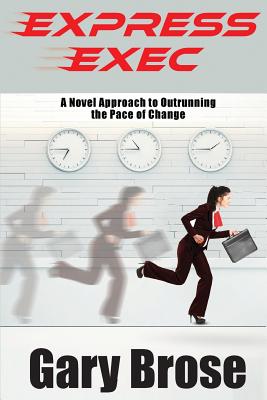 Express Exec
A novel approach to outrunning the pace of change
Paperback

* Individual store prices may vary.
Other Editions of This Title:
Paperback (7/11/2018)
Description
IS THE PACE OF CHANGE OVERWHELMING YOU?
As a business owner or manager, the world keeps changing faster than most people can keep up with it. The challenge is to find a way to build your business so that it can beat that pace and gain from it while your competitors wallow far behind.
Author, Gary Brose, has owned, purchased or started over two dozen companies in the last forty years. During that time he's seen computers, fax machines, the internet, and social media change everything in his labor-intensive businesses. He experimented with all sorts of strategies to build his organizations so that they would be more nimble and able to deal with significant, sometimes massive change to keep pace with the new reality. He developed management strategies and techniques that help to create a more motivated and engaged workforce to adapt faster and more effectively. Now, for the first time, he is sharing what he's learned in Express Exec.
Express Exec is a book like no other. It is written as a novel - a business novel that demonstrates the path to building a stronger, more nimble organization. If you read and loved Bob Burg's Go-Giver novels, you'll love Express Exec. Gary walks the reader through the steps of Andrea Lane, the VP of Manufacturing at Juggernaut Industries, as she tries to save her company from looming disaster. By reading the short novel, you will experience, "first hand", the struggles she goes through to make massive change in a very short period of time. Sit in on the conversations she has with other managers, her supervisors, and the front line employees. Experience all the pains, angst, tears, and the joys of interacting with her coworkers and employees.
Read chapters showing:
How to change the payroll structure completely without totally alienating your workforce.
How to segue from paying people for time to paying people for performance.
The right way to design a bonus program so it motivates and engages everyone.
How to recover from your own errors in the process of making change.
How to radically revamp the 'Review and Raise' process to supercharge your employees.
How to create a more enlightened workforce by educating the employees about the business.
And much more...
After reading Express Exec, you will understand better how to start and create change in your organization. Ideal for business owners and managers who need to jumpstart your workforce and, in the process, find a path toward beating the pace of change. A virtual tutorial about human nature, Express Exec is like no other business book you've ever read, Enjoy a riveting tale that will make you feel as though you experienced it personally so you can be armed to take on the fight and literally outrun the pace of change
Createspace Independent Publishing Platform, 9781720353263, 256pp.
Publication Date: July 5, 2018