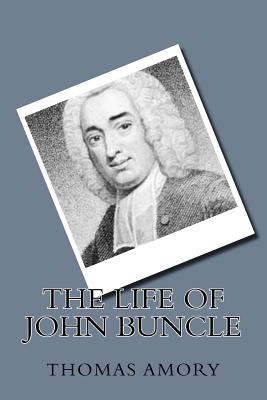 The life of John Buncle
Paperback

* Individual store prices may vary.
Other Editions of This Title:
Paperback, Large Print (10/28/2009)
Paperback (3/25/2017)
Paperback (5/29/2010)
Paperback (5/29/2010)
Paperback (5/29/2010)
Paperback (5/29/2010)
Paperback (3/22/2017)
Paperback (10/28/2009)
Hardcover (10/29/2009)
Hardcover (11/10/2009)
Hardcover (1/28/2009)
Hardcover (11/8/2015)
Hardcover (9/20/2015)
Hardcover (5/19/2016)
Hardcover (12/4/2015)
Hardcover (4/26/2016)
Hardcover (5/18/2016)
Hardcover (9/20/2015)
Hardcover (11/18/2015)
Paperback (2/18/2015)
Description
The life of John Buncle By Thomas Amory The 18th century was a wealth of knowledge, exploration and rapidly growing technology and expanding record-keeping made possible by advances in the printing press. In its determination to preserve the century of revolution, Gale initiated a revolution of its own: digitization of epic proportions to preserve these invaluable works in the largest archive of its kind. Now for the first time these high-quality digital copies of original 18th century manuscripts are available in print, making them highly accessible to libraries, undergraduate students, and independent scholars. Rich in titles on English life and social history, this collection spans the world as it was known to eighteenth-century historians and explorers. Titles include a wealth of travel accounts and diaries, histories of nations from throughout the world, and maps and charts of a world that was still being discovered. Students of the War of American Independence will find fascinating accounts from the British side of conflict. We are delighted to publish this classic book as part of our extensive Classic Library collection. Many of the books in our collection have been out of print for decades, and therefore have not been accessible to the general public. The aim of our publishing program is to facilitate rapid access to this vast reservoir of literature, and our view is that this is a significant literary work, which deserves to be brought back into print after many decades. The contents of the vast majority of titles in the Classic Library have been scanned from the original works. To ensure a high quality product, each title has been meticulously hand curated by our staff. Our philosophy has been guided by a desire to provide the reader with a book that is as close as possible to ownership of the original work. We hope that you will enjoy this wonderful classic work, and that for you it becomes an enriching experience.
Createspace Independent Publishing Platform, 9781720740360, 426pp.
Publication Date: June 5, 2018
or
Not Currently Available for Direct Purchase