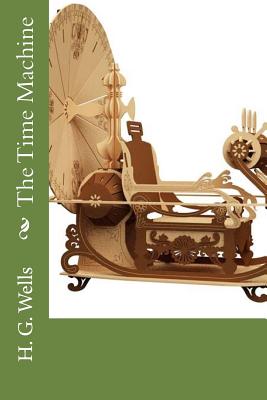 The Time Machine
Paperback

* Individual store prices may vary.
Other Editions of This Title:
Paperback (5/30/2018)
Paperback (11/12/2019)
Paperback (3/18/2018)
Paperback (1/17/2018)
Paperback (10/16/2017)
Paperback (3/15/2018)
Paperback (5/25/2018)
Hardcover (4/5/2018)
Paperback (5/29/2018)
Paperback (12/7/2020)
Paperback (2/23/2020)
Paperback (4/25/2014)
Paperback (6/2/2020)
Paperback (12/4/2015)
Paperback (4/26/2018)
Paperback (4/10/2021)
Paperback (1/2/2021)
Paperback (6/13/2020)
Paperback (9/14/2020)
Paperback (1/5/2013)
Description
The Time Machine by H. G. Wells Wells touches gently on time travel as a notion, but mostly The Time Machine is about the terminal future he sees for mankind: His nameless time traveler ventures to the world that will be 802,701 A.D., And there he finds mankind divided among the Eloi and the Morlocks. The Eloi are a gentle, winsome, idle race, who do not labor; the Morlocks, in contrast, are a barbaric race - who use the Eloi for food. It's a grim vision, and a gripping one. We are delighted to publish this classic book as part of our extensive Classic Library collection. Many of the books in our collection have been out of print for decades, and therefore have not been accessible to the general public. The aim of our publishing program is to facilitate rapid access to this vast reservoir of literature, and our view is that this is a significant literary work, which deserves to be brought back into print after many decades. The contents of the vast majority of titles in the Classic Library have been scanned from the original works. To ensure a high quality product, each title has been meticulously hand curated by our staff. Our philosophy has been guided by a desire to provide the reader with a book that is as close as possible to ownership of the original work. We hope that you will enjoy this wonderful classic work, and that for you it becomes an enriching experience.
Createspace Independent Publishing Platform, 9781721009398, 188pp.
Publication Date: June 12, 2018
or
Not Currently Available for Direct Purchase