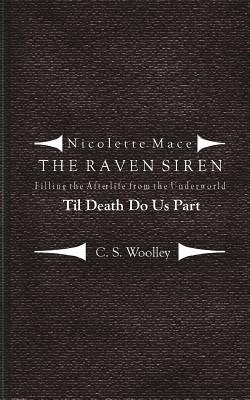 Filling the Afterlife from the Underworld (Paperback)
Til death do us part: Case files from the Raven Siren
Createspace Independent Publishing Platform, 9781721267392, 116pp.
Publication Date: August 3, 2018
Other Editions of This Title:
Paperback (3/14/2018)
Paperback (9/13/2017)
Paperback (6/13/2017)
Paperback (1/16/2017)
Paperback (6/14/2017)
Paperback (7/19/2017)
Paperback (7/30/2018)
Paperback (9/18/2017)
Paperback (2/27/2015)
Paperback (5/17/2015)
Paperback (7/15/2014)
Paperback (5/4/2017)
Paperback (7/15/2014)
Paperback (2/25/2014)
Paperback (2/25/2013)
Paperback (5/11/2017)
* Individual store prices may vary.
Description
Have you ever woken up and found yourself in the middle of a different life? One moment Siren was in the hospital and the next thing she knows she's married with children. Not only is she married, but her husband is a politician, she is involved in a torrid affair, and nothing in her life makes sense. Yet, there is something comforting in the fantasy, and rather than fight it, Siren is content to lose herself in it. On the other side of things, Fred and Harry are searching high and low for any sign of where Siren might be. One moment she was in the hospital, and the next moment she was gone. With Harry struggling to conquer his grief over Sabrina and Fred believing the worst has happened to Siren, the two men are somewhat on edge as they try to find out where Siren is before something really terrible happens. Will Siren spend the rest of her life in a confusing parallel reality? Will Fred and Harry be able to find out what's happened to their friend before it's too late? Or is this the last hurrah for the troublesome trio?
About the Author
C.S. Woolley (Caroline Sarah Woolley) was born in Macclesfield, Cheshire and raised in the nearby town of Wilmslow. From an early age she discovered she had a flair and passion for writing. This was fuelled by winning local poetry and short story competitions during her years at Mottram St. Andrews Primary School. During high school, she continued to write and found her time split between acting, writing and her studies. At 14 she began writing novels. University did nothing to change her love of writing. C.S. spent a year reading Law at Manchester Metropolitan University before changing her mind and moving to read English at Hull University. After graduating she moved to Nottingham where she now lives and stays for the cricket at Trent Bridge. In 2010, C.S published her first novel, Nicolette Mace - The Raven Siren: The Kevin Metis Saga. Since 2010 she has published books in five series - The Chronicles of Celadmore, The Mysteries of Stickleback Hollow, The Children of Ribe, The Children of Snotingas and Nicolette Mace: The Raven Siren. More recently C.S has taken part in charity projects that include producing content for charity books such as Standing by the Watchtower: Volume 1. C.S has also acted in several plays and films including Weekend (2011). Hobbies: horse riding, including show jumping and cross country, Formula 1, tennis, free climbing, singing, boxing, dancing, playing guitar, cricket and is also an avid PC and console gamer. Favourite movies: The Muppet Christmas Carol, Star Wars Episode V: The Empire Strikes Back, Chisum. Favourite books: Sharpe's Prey, Silverthorn and the Three Musketeers. Favourite bands: Thin Lizzy, the Darkness and McBusted. For more information please visit: http: //www.mightierthanthesworduk.com