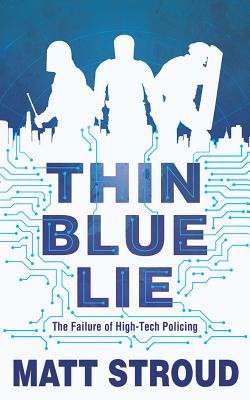 Thin Blue Lie (Compact Disc)
The Failure of High-Tech Policing
Brilliance Audio, 9781721354788
Publication Date: March 19, 2019
Other Editions of This Title:
Hardcover (3/19/2019)
MP3 CD (3/19/2019)
Paperback (4/14/2020)
* Individual store prices may vary.
Description
A sweeping and wide-ranging investigation of how supposedly transformative technologies peddled to cops have actually made policing worse--lazier, more reckless, and more discriminatory.
American law enforcement is a system in crisis. After explosive protests responding to police brutality and discrimination in Baltimore, Ferguson, and across the country, the vexing question of how to reform the police and curb misconduct stokes tempers and fears on both the right and left. In the midst of this fierce debate, however, most of us take for granted that innovative new technologies can only help.
During the early 90s, in the wake of the infamous Rodney King beating, police leaders began looking to corporations and new technologies for help. In the decades since, these technologies have--in theory--given police powerful, previously unthinkable faculties: the ability to incapacitate a suspect without firing a bullet (Tasers); the capacity to more efficiently assign officers to high-crime areas using computers (Compstat); and, with body cameras (Axon), a means of defending against accusations of misconduct.
But in this vivid, deeply-reported book, Matt Stroud shows that these tools are overhyped and ineffective. Instead of wrestling with tough fundamental questions about their work, police leaders have looked to technology as a silver bullet, and stood by as corporate interests have insinuated themselves ever deeper into the public institution of law enforcement. With a sweeping history of these changes, Thin Blue Lie is a must-read for anyone seeking to understand how policing became what it is today.