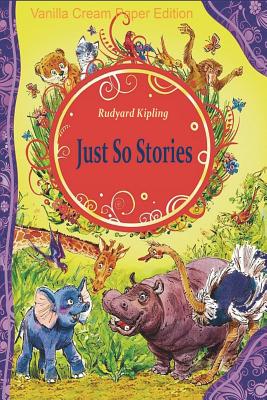 Just So Stories
Paperback

* Individual store prices may vary.
Other Editions of This Title:
Paperback (3/29/2020)
Paperback (12/7/2014)
Paperback (12/8/2018)
Paperback (4/30/2018)
Paperback (8/27/2015)
Paperback (12/21/2015)
Paperback (4/14/2015)
Paperback (5/20/2020)
Paperback (2/18/2020)
Paperback (1/12/2012)
Paperback (1/25/2016)
Paperback (12/21/2005)
Paperback (11/20/2018)
Paperback (12/12/2017)
Paperback (4/3/2013)
Paperback (7/18/2020)
Paperback (4/1/2020)
Paperback (4/7/2020)
Paperback (6/20/2018)
Description
Rare edition with unique illustrations and elegant classic cream paper The famous, funny, and inspiring stories of creation as readers have never heard them before. From the tale of how the leopard got his spots to the crab who played with the sea, from the ingenious invention of the alphabet to how the rhinoceros got his wrinkled skin, these stories of strange happenings in the High and Far-Off Times brim with life, humor, and magic. Drawing from the oral storytelling traditions of India and Africa, Noble prize winner Rudyard Kipling's vigorous, amusing tales offer imaginative answers to unanswered questions about animals and provide little pearls of wisdom. These classic tales, filled with playfully clever animals and people have entertained young and old alike for over a hundred years. Includes unique illustrations.
Createspace Independent Publishing Platform, 9781721510788, 122pp.
Publication Date: June 17, 2018