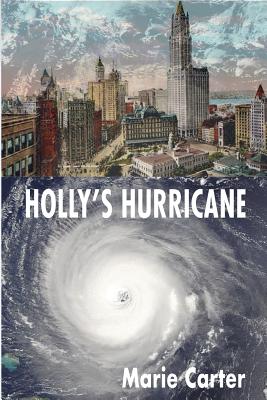 Holly's Hurricane (Paperback)
Createspace Independent Publishing Platform, 9781721563531, 192pp.
Publication Date: August 31, 2018
* Individual store prices may vary.
Description
In the year 2040, Hurricane Diana descends on New York City. Holly Williams, an architect and immigrant from England flees to her home country, staying with her ailing stepdad in Boston, England. Her mother, who has Alzheimer's is living in a nursing home nearby. Holly's purpose in life, it seems, has been to design factories and offices for robotics companies while overseeing the demolition of historic New York buildings. While seeking refuge from the hurricane that has destroyed New York City to the point that is barely recognizable, Holly begins to have strange hallucinations in which a mysterious stranger guides her through some of the city's forgotten and dramatic past. "HOLLY'S HURRICANE, smartly set in the near future after a category 4 hurricane hits New York, will appeal to futurists and history buffs. An absorbing romantic novel that will make you think in new ways about the past, present and future of our most vulnerable cities as humankind battles climate change."-Laurie Gwen Shapiro, author of THE STOWAWAY "Here is New York City as we have never seen it, devastated by Hurricane Diana in 2040. Here too is our long overdue romantic heroine, Holly Williams, a sixty-year-old architect and immigrant struggling with ailing parents, unruly robotic aides, and an unexpected love interest twelve years her junior. Guided by a Virgil-like figure, Holly begins to realize at last her professional and personal potential as she embarks on a mission to preserve what's left of her adopted city. Prepare to be swept away by the sheer force of HOLLY'S HURRICANE-a fantastical ode to New York City's glorious and horrifying past, as well as a warning to us all for its future."-Molly Gaudry, author of WE TAKE ME APART "Be prepared to travel through dimensions in time and space in HOLLY'S HURRICANE. This is the kind of novel that haunts you, and you'll find yourself thinking about it for days to come. You'll become Holly, a brilliant architect, walking through the ruins of New York City in 2040 after a hurricane has devastated the city. Gorgeously written and incredibly wise, it's a page-turner that will leave you on the edge of your seat, wondering if you've just looked through the window of our very vulnerable future. But as Marie Carter asks, 'How could something so pretty and intricate emerge from some devastation?' Carter shows us that all is not lost, as she carves the beauty out of the destruction."-Liz Scheid, author of THE SHAPE OF BLUE.
About the Author
MARIE CARTER is a Scottish writer, editor, writing teacher, and tour guide, based in Astoria, NY. Her first book, THE TRAPEZE DIARIES, based on her experiences of learning trapeze, was published by Hanging Loose Press. She is also the editor of WORD JIG: NEW FICTION FROM SCOTLAND. Her work has been published in numerous literary magazines, websites, and anthologies. She has also been awarded and attended a residency at the MacDowell Colony. She teaches Memoir and Creative Writing at Gotham Writers' Workshop. Fascinated by New York City's macabre and little-known histories in her writing and life, she is also a tour guide with Boroughs of the Dead leading tours throughout the boroughs. She also lectures regularly on various aspects of New York City's history.