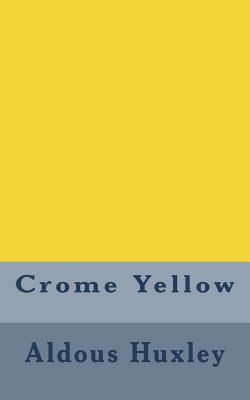 Crome Yellow (Paperback)
Createspace Independent Publishing Platform, 9781721564019, 170pp.
Publication Date: June 19, 2018
Other Editions of This Title:
Paperback (9/2/2017)
Paperback (7/11/2016)
Paperback (3/8/2018)
Paperback (7/4/2018)
Paperback (8/2/2016)
Paperback (3/25/2017)
Paperback (9/13/2017)
Paperback (8/8/2017)
Paperback (12/7/2016)
Paperback (8/21/2017)
Paperback (3/28/2017)
Paperback (6/16/2018)
Paperback (2/6/2017)
Paperback (3/14/2017)
Paperback (7/7/2018)
Paperback (6/29/2017)
Paperback (6/30/2017)
Paperback (2/21/2017)
Hardcover (5/24/2017)
* Individual store prices may vary.
Description
Crome Yellow by Aldous Huxley On vacation from school, Denis goes to stay at Crome, an English country house inhabitated by several of Huxley's most outlandish characters-from Mr. Barbecue-Smith, who writes 1,500 publishable words an hour by "getting in touch" with his "subconscious," to Henry Wimbush, who is obsessed with writing the definitive History of Crome. Denis's stay proves to be a disaster amid his weak attempts to attract the girl of his dreams and the ridicule he endures regarding his plan to write a novel about love and art. Aldous Huxley's first novel, Crome Yellow, was published in 1921, and, as a comedy of manners and ideas, its relatively realistic setting and format may come as a surprise to fans of his later works such as Point Counter Point and Brave New World. Some who know only Brave New World may not know that as a 16-year-old planning to enter medicine, Aldous Huxley was stricken by a serious eye disease which left him temporarily blind, and which derailed what certainly would have been a prominent career as a physician or scientist. Crome Yellow has often been called "witty," as well as "talky," and it certainly owes as much to Vanity Fair as it may, surprisingly to some, owe to Tristram Shandy, although one might think that characters such as Mr. Barbecue-Smith and his remarkable writing theories could have some literary antecedents in Lawrence Sterne. Lambasting the post-Victorian standards of morality, Crome Yellow is a witty masterpiece that, in F. Scott Fitzgerald's words, "is too irnonic to be called satire and too scornful to be called irony." We are delighted to publish this classic book as part of our extensive Classic Library collection. Many of the books in our collection have been out of print for decades, and therefore have not been accessible to the general public. The aim of our publishing program is to facilitate rapid access to this vast reservoir of literature, and our view is that this is a significant literary work, which deserves to be brought back into print after many decades. The contents of the vast majority of titles in the Classic Library have been scanned from the original works. To ensure a high quality product, each title has been meticulously hand curated by our staff. Our philosophy has been guided by a desire to provide the reader with a book that is as close as possible to ownership of the original work. We hope that you will enjoy this wonderful classic work, and that for you it becomes an enriching experience.