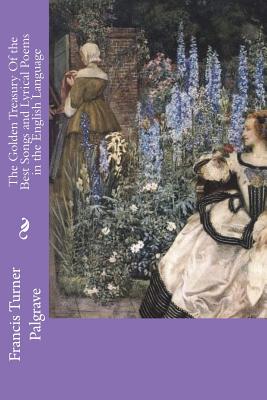 The Golden Treasury Of the Best Songs and Lyrical Poems in the English Language
Paperback

* Individual store prices may vary.
Other Editions of This Title:
Paperback (4/28/2017)
Paperback (6/2/2017)
Paperback (3/30/2014)
Paperback (5/3/2017)
Paperback (4/18/2017)
Paperback (9/28/2007)
Paperback (2/14/2015)
Paperback (4/16/2017)
Hardcover (12/5/2015)
Hardcover (11/7/2015)
Hardcover (10/13/2018)
Hardcover (8/22/2015)
Paperback (10/13/2018)
Hardcover (5/24/2017)
Hardcover (3/29/2014)
Paperback (5/24/2017)
Hardcover (5/24/2016)
Hardcover (11/15/2015)
Hardcover (5/3/2016)
Hardcover (5/18/2016)
Description
The Golden Treasury Of the Best Songs and Lyrical Poems in the English Language By Francis Turner Palgrave POET LAUREATE. This book in its progress has recalled often to my memory a man with whose friendship we were once honoured, to whom no region of English literature was unfamiliar, and who, whilst rich in all the noble gifts of nature, was most eminently distinguished by the noblest and the rarest, -just judgment and high-hearted patriotism. It would have been hence a peculiar pleasure and pride to dedicate what I have endeavoured to make a true national Anthology of three centuries to Henry Hallam. But he is beyond the reach of any human tokens of love and reverence; and I desire therefore to place before it a name united with his by associations which, whilst Poetry retains her hold on the minds of Englishmen, are not likely to be forgotten. Your encouragement, given while traversing the wild scenery of Treryn Dinas, led me to begin the work; and it has been completed under your advice and assistance. For the favour now asked I have thus a second reason: and to this I may add, the homage which is your right as Poet, and the gratitude due to a Friend, whose regard I rate at no common value. Permit me then to inscribe to yourself a book which, I hope, may be found by many a lifelong fountain of innocent and exalted pleasure; a source of animation to friends when they meet; and able to sweeten solitude itself with best society, -with the companionship of the wise and the good, with the beauty which the eye cannot see, and the music only heard in silence. If this Collection proves a store-house of delight to Labour and to Poverty, -if it teaches those indifferent to the Poets to love them, and those who love them to love them more, the aim and the desire entertained in framing it will be fully accomplished. F.T.P. May, 1861. PREFACE. This little Collection differs, it is believed, from others in the attempt made to include in it all the best original Lyrical pieces and Songs in our language, by writers not living, -and none beside the best. Many familiar verses will hence be met with; many also which should be familiar: -the Editor will regard as his fittest readers those who love Poetry so well, that he can offer them nothing not already known and valued. For those who take up the book in a serious and scholarly spirit, the following remarks on the plan and the execution are added. The Editor is acquainted with no strict and exhaustive definition of Lyrical Poetry; but he has found the task of practical decision increase in clearness and in facility as he advanced with the work, whilst keeping in view a few simple principles. Lyrical has been here held essentially to imply that each Poem shall turn on some single thought, feeling, or situation. In accordance with this, narrative, descriptive, and didactic poems, -unless accompanied by rapidity of movement, brevity, and the colouring of human passion, -have been excluded. We are delighted to publish this classic book as part of our extensive Classic Library collection. Many of the books in our collection have been out of print for decades, and therefore have not been accessible to the general public. The aim of our publishing program is to facilitate rapid access to this vast reservoir of literature, and our view is that this is a significant literary work, which deserves to be brought back into print after many decades. The contents of the vast majority of titles in the Classic Library have been scanned from the original works. To ensure a high quality product, each title has been meticulously hand curated by our staff. Our philosophy has been guided by a desire to provide the reader with a book that is as close as possible to ownership of the original work. We hope that you will enjoy this wonderful classic work, and that for you it becomes an enriching experience.
Createspace Independent Publishing Platform, 9781722148935, 56pp.
Publication Date: July 4, 2018
or
Not Currently Available for Direct Purchase