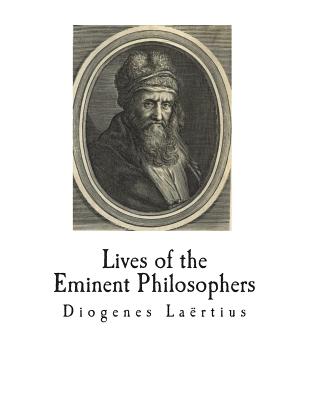 Lives of the Eminent Philosophers
The Lives and Sayings of the Greek Philosophers
Paperback

* Individual store prices may vary.
Other Editions of This Title:
Paperback (9/20/2020)
Paperback (10/1/2020)
Compact Disc (12/4/2018)
Hardcover (5/14/2018)
MP3 CD (12/4/2018)
Description
Lives of the Eminent Philosophers by Diogenes Laertius and translated by Robert Drew Hicks. Lives and Opinions of Eminent Philosophers is a biography of the Greek philosophers by Diogenes Laertius, written in Greek, perhaps in the first half of the third century AD. There are some who say that the study of philosophy had its beginning among the barbarians. They urge that the Persians have had their Magi, the Babylonians or Assyrians their Chaldaeans, and the Indians their Gymnosophists; and among the Celts and Gauls there are the people called Druids or Holy Ones, for which they cite as authorities the Magicus of Aristotle and Sotion in the twenty-third1 book of his Succession of Philosophers. Also they say that Mochus was a Phoenician, Zamolxis a Thracian, and Atlas a Libyan. If we may believe the Egyptians, Hephaestus was the son of the Nile, and with him philosophy began, priests and prophets being its chief exponents. Hephaestus lived 48,863 years before Alexander of Macedon, and in the interval there occurred 373 solar and 832 lunar eclipses. The date of the Magians, beginning with Zoroaster the Persian, was 5000 years before the fall of Troy, as given by Hermodorus the Platonist in his work on mathematics; but Xanthus the Lydian reckons 6000 years from Zoroaster to the expedition of Xerxes, and after that event he places a long line of Magians in succession, bearing the names of Ostanas, Astrampsychos, Gobryas, and Pazatas, down to the conquest of Persia by Alexander.
Createspace Independent Publishing Platform, 9781722256135, 324pp.
Publication Date: July 3, 2018