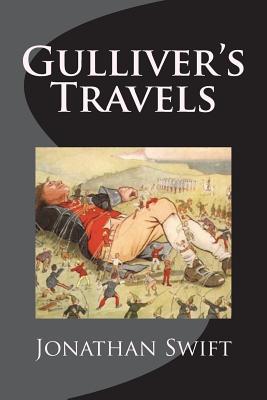 Gulliver's Travels
Paperback

* Individual store prices may vary.
Other Editions of This Title:
Paperback (9/1/2014)
Paperback (4/26/2014)
Paperback (1/28/2019)
Paperback (3/24/2013)
Paperback (2/22/2012)
Paperback (11/7/2012)
Paperback (10/5/2008)
Paperback (12/29/2013)
Paperback (12/17/2010)
Paperback (11/3/2012)
Paperback (6/22/2014)
Paperback (7/30/2010)
Paperback (8/11/2011)
Paperback (5/18/2014)
Paperback (10/4/2008)
Paperback (9/1/2004)
Paperback (5/26/2014)
Paperback (11/29/2011)
Paperback (6/12/2012)
Description
Written by Jonathan Swift, Gulliver's Travels is the story of the adventures of Lemuel Gulliver, the narrator and protagonist of the story. Gulliver is a married surgeon from Nottinghamshire, England, who has a taste for traveling. He works as a surgeon on ships and eventually becomes a ship captain. Through one unfortunate event at sea to the next, Gulliver finds himself stranded in foreign lands and absurd situations, from being captured by the miniature Lilliputians to befriending talking horses, the Houyhnhnms. Although Gulliver's vivid and detailed storytelling makes it clear that he is intelligent and well-educated, his perceptions are na ve and gullible. Gulliver never thinks that the absurdities he encounters are funny, and never makes the satiric connections between the lands he visits and his own home.
Createspace Independent Publishing Platform, 9781723240218, 116pp.
Publication Date: July 18, 2018