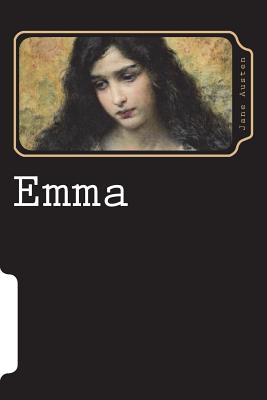 Emma
Paperback

* Individual store prices may vary.
Other Editions of This Title:
Paperback (5/17/2012)
Paperback (6/18/2019)
Paperback (7/30/2013)
Paperback (12/9/2008)
Paperback (3/17/2011)
Paperback (6/9/2019)
Paperback (10/30/2015)
Hardcover (2/20/2006)
Paperback (2/18/2015)
Paperback, Large Print (8/12/2018)
Hardcover (6/1/2010)
Paperback (6/30/2009)
Paperback, Bosnian (5/20/2019)
Paperback, Chichewa;chewa;nyanja (5/20/2019)
Paperback, Basque (5/20/2019)
Paperback, Malay (7/17/2019)
Paperback, Maltese (6/27/2019)
Paperback (7/18/2010)
Paperback, Romanian (7/17/2019)
Compact Disc (8/15/2010)
Description
Emma Woodhouse has just attended the wedding of Miss Taylor, her friend and former governess, to Mr. Weston. Having introduced them, Emma takes credit for their marriage and decides that she likes matchmaking. After she returns home to Hartfield with her father, Emma forges ahead with her new interest against the advice of her sister's brother-in-law, Mr. Knightley, and tries to match her new friend Harriet Smith to Mr. Elton, the local vicar. First, Emma must persuade Harriet to refuse the marriage proposal from Robert Martin, a respectable, educated, and well-spoken young farmer, which Harriet does against her wishes. However, Mr. Elton, a social climber, thinks Emma is in love with him and proposes to her. When Emma tells him that she had thought him attached to Harriet, he is outraged. After Emma rejects him, Mr. Elton leaves for a stay at Bath and returns with a pretentious, nouveau-riche wife, as Mr. Knightley expected. Harriet is heartbroken, and Emma feels ashamed about misleading her. Frank Churchill, Mr. Weston's son, arrives for a two-week visit to his father and makes many friends. Frank was adopted by his wealthy and domineering aunt, and he has had very few opportunities to visit before. Mr. Knightley suggests to Emma that, while Frank is intelligent and engaging, he is also a shallow character. Jane Fairfax also comes home to see her aunt, Miss Bates, and grandmother, Mrs. Bates, for a few months, before she must go out on her own as a governess due to her family's financial situation. She is the same age as Emma and has been given an excellent education by her father's friend, Colonel Campbell. Emma has not been as friendly with her as she might because she envies Jane's talent and is annoyed to find all, including Mrs. Weston and Mr. Knightley, praising her. The patronizing Mrs. Elton takes Jane under her wing and announces that she will find her the ideal governess post before it is wanted. Emma begins to feel some sympathy for Jane's predicament.
Createspace Independent Publishing Platform, 9781723246739, 252pp.
Publication Date: July 18, 2018